How to make sure you have the perfect hair colour for your wedding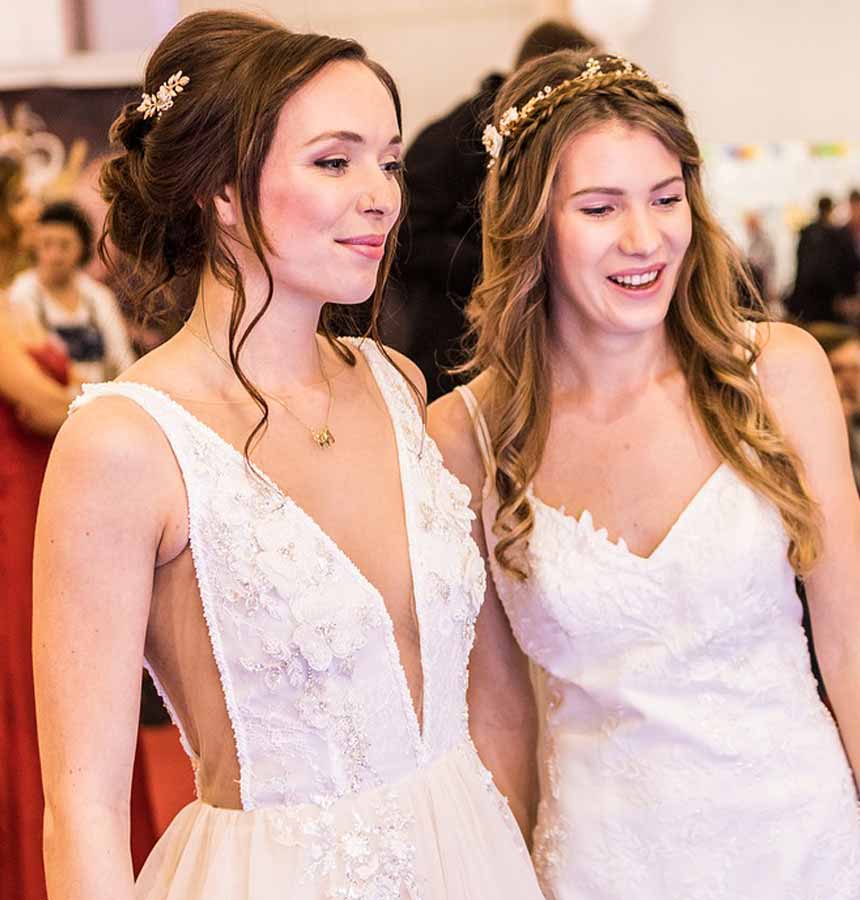 There are many details that go into planning your wedding day: Tablescapes, music, food and drink... beauty is just a fraction of the little things that make up the sum of your detailed efforts. Ready or not, decisions have to be made, and meanwhile, of course, you try to make the journey more fun and less boring.
Hair alone requires a few different considerations. So we're here to help you set your wedding goals and make sure you not only have the best colour on your wedding day, but also an overall healthy mane for one of the best, if not the best, wedding days. the most photographed days of your life.
When should the colour be ready?
If you are working with highlights, aim for two to three weeks before the big day. At this point it is still fresh without appearing too light at the roots or on the face.
For a rich all-over colour on the darker side, you can safely go in a week or two before the big day. As a rule, darker colours fade faster the more shampoos you go through, so you can get the dates a little closer. This also applies to lowlights. If you add a temporary colour (e.g. a splash of colour with stronger saturation or even a semi-permanent colour), these will fade with each wash. Therefore, do not use things that are not there.
Two weeks is really the sweet spot when it comes to colouring your hair before your wedding: you've had a few shampoos since you left the salon, but not so many that they show signs of wear. It's just enough time to get used to changes.
What risks NOT to take
We tapped Tiffany Fodor from New York , an editorial stylist and wedding hair guru, to see what input she had on the topic, what she not should do. " Do not attempt a deep conditioning treatment that will allow you to one week before the wedding not Familiar I once had a client try this herself before her wedding day, and her hair was beyond oily because the product didn't come out after multiple shampoos."
Another last minute change you don't want to make is changing your colourist. " Don't try out a new person or a new look weeks before your wedding day ", says Fodor. Each hair colour has its own techniques and you won't know if they are talented with your hair until it's too late. "If you want to make a big change to your colour (e.g. from light to dark or dark Make sure you look into these colour changes. Don't expect this to happen overnight as you can't always change your mind at the last minute without affecting your hair.
How to care for your colour
If you use colour-saving shampoos, Scalp scrubs, colour safe Conditioner and cold water, you have the perfect cocktail for ideal colour care. Let's sum it up now.
Colour-saving shampoos are self-explanatory. They are made without sulphates to prevent your strands from losing their newly inhabited tone. Instead, they have conditioning agents to keep your cuticles silky smooth.
Scalp scrubs will prevent you from flaking or Shed get, and they do this without affecting your colour. Their purpose is to rebalance the scalp and remove unwanted build-up. Massaging a good scrub onto the scalp under your locks will treat the skin without affecting the colour of your strands.
As mentioned earlier, conditioning treatments can make your hair feel too heavy. Instead, opt for a colour-safe conditioner to keep unwanted tones at bay. Finally, try to stay away from hot water. We know a hot shower can be a popular pastime for some, but heat always alters the porosity of your hair, leaving it dry and brittle and can leave your colour partially worn away. Don't worry, this doesn't mean you have to take a super cold shower - just try to keep the temperature on the lukewarm side.
When to get a haircut
Haircuts are a fundamental part of your wedding look. Not only do they provide the perfectly framed streaks in all the right places, but a good Haircut also helps your colourist with a fresh and finished canvas.
But imagine this: You've just thrown serious money at the salon to get your hair coloured. You have a natural cascade of Balayagewhich drips into perfectly lightened ends. Then you get a haircut and all those perfectly placed stripes and foils have been cut off and are staring at you from the floor. Sorry for the anxiety, but that anxiety-filled feeling is all we want to help you avoid on your wedding day. Lesson learned: let your hair from Cut your colour, not after it.
Another thing to keep in mind is that before your pre-wedding haircut appointment, you need to be absolutely sure what wedding hairstyle you will be wearing. Will it be up or down? Will you part to the side or down the middle? This way, your stylist and colourist can ensure that what they create is a collaborative effort and fully supports your wedding day look.
If you're feeling brave, a haircut change like a blunt bob or fresh fringe can work on its own as a wedding hairstyle, but make sure you do the new one, before you go to your colourist.
Schedule a hair sample
It's a huge success. Meeting with a stylist beforehand not only ensures a good look for your wedding day, but also helps to bring in the right energy. Also, we don't always want what we think we want. There is a tendency to be attracted to things that are outside of our own comfort zones. Trying as many styles as possible will not only ensure that you trust the look and stylist you choose, but also how your hair colour affects things.
It may not be the most flattering move for your freshly painted strands to get a new set of highlights and then change your natural parting for a sideways look. You want your colour to look its best in the chosen shape and texture of your wedding style, and if you choose to use extensions to lengthen or fill in your wedding strands, consider taking your hair wefts into your colourist so he or she can match them specifically to your colour.
If you have a drastic change in colour, your hairdresser is not the only one to notify you before the big day: Inform your make-up artist about a colour change and arrange a test with them in your new look beforehand. Hair colour has the power to change your overall colour and this can affect the way you go for make-up choices on your wedding day. Once your make-up artist has been notified and has seen you preferably with the new colour change, they can be shown the correct colours and tools in their kit to ensure you get the best they have to offer.