Eye Cream Top 5: Test of the best eye care 2023!
Which eye cream products are the winners in our 2023 test? We show you - the 5 best eye care must-haves!
Eye Cream Test for Eye Care
The eyes are known to be the gateway to the soul. But they should above all show our emotions, not betray our age! However, eye care is unfortunately the underestimated beauty ritual! When it comes to facial skin care, we immediately think of creams, peelings or masks. Almost everyone has these products at home! But eye cream is often simply forgotten. A shocking study says: Only 12 percent of German women care for their eyes daily! Yet eye care is particularly important! And special products are simply perfect for the needs of this particularly sensitive skin area. As always, it is very difficult to decide on the right product, so we have tested the wide range of products for you and filtered out these five top favourites!
Top 5 in eye care and eye cream
1st place: sebamed Anti-Aging Eye Care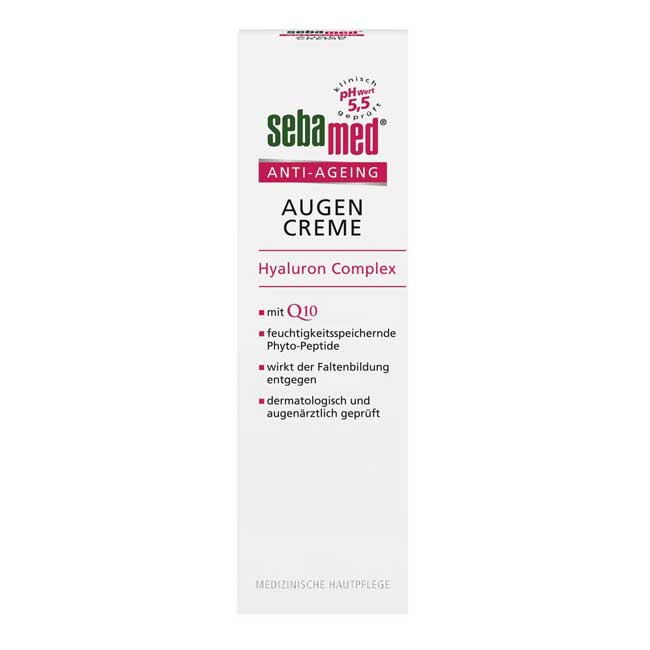 Here is our eye cream test winner! The Anti Aging Products from sebamed are optimally adjusted to the increasing sensitivity of the skin from the age of 30. This popular eye cream replenishes the skin's moisture depots with an active ingredient complex based on hyaluronic acid and phyto-peptides, thus reducing the depth of wrinkles and improving the skin's elasticity! The excellent care with bisabolol also soothes skin irritations around the highly sensitive eye area. It also protects for harmful environmental influences that cause the skin to age more quickly. Sweet almond oil, avocado oil and shea butter provide an extremely pleasant fragrance. This product has been intensively dermatologically tested by dermatologists and ophthalmologists in over 120 studies and thus promises high tolerance. In addition, no microplastics were used in the production process. Highly recommended!
Perfect from the age of 30
Protects for harmful environmental influences
Without microplastics
---
2nd place: D.obsessed Retinol Eye Cream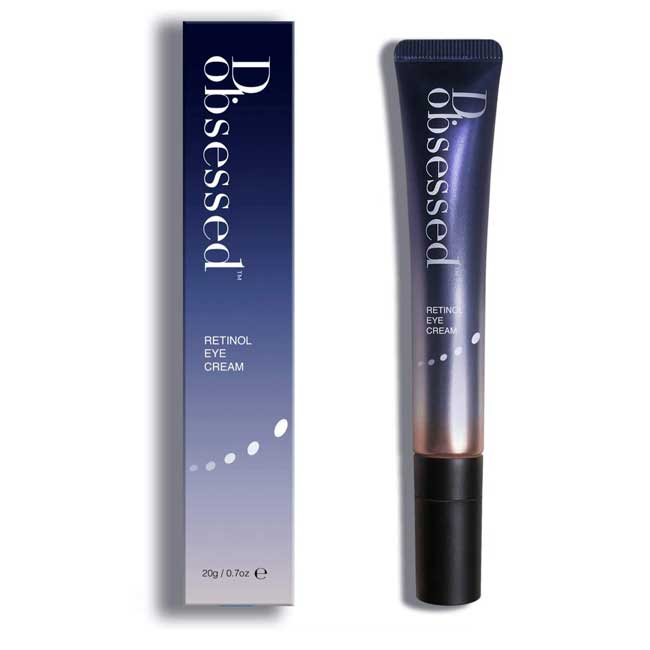 Wow! With reinforced multiple active ingredients such as hyaluronic acid, retinol, vitamin E and peptide, this high-quality eye cream ensures optimal beauty. Already with the first use, the skin is considerably smoothed - annoying eye wrinkles are immediately reduced. With continued use, you will notice an obvious reduction in crow's feet and dark circles. Puffy eyes are finally a thing of the past and you immediately look younger and fresher! D.obsessed products are manufactured in GMP and FDA certified factories. This guarantees the highest quality! In addition, the cream has been clinically tested, is hypoallergenic, paraben-free and free from animal testing. An absolute top product!
GMP and FDA certified
Without parabens
Without animal testing
---
3rd place: BIONIVA Eye Cream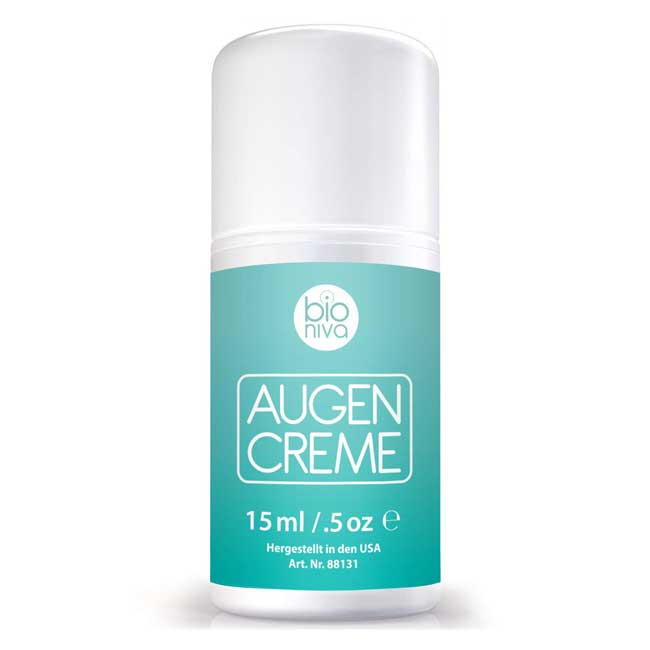 Our absolute top favourite is the highly effective eye cream by BIONIVA, formerly BIONURA. The name is new, but the quality standard is quite the same! This product is packed with powerful ingredients that rejuvenate the eye area to the max. The included hyaluronic acid plumps the skin, while the added peptides and plant stem cells refresh it on a cellular level. The beauty is: results are immediate! Tired and puffy eyes perk right up. The gel also has a calming effect and is absorbed pleasantly quickly. It leaves a silky smooth feeling on the skin! This high-quality eye cream is also animal-free and consists exclusively of natural ingredients. By the way, you can also use it on your face, neck, décolleté and hands to reduce their ageing process as well. Perfect!
Quick effect
Natural ingredients
Without animal testing
---
4th place: Studio Botanic Eye Cream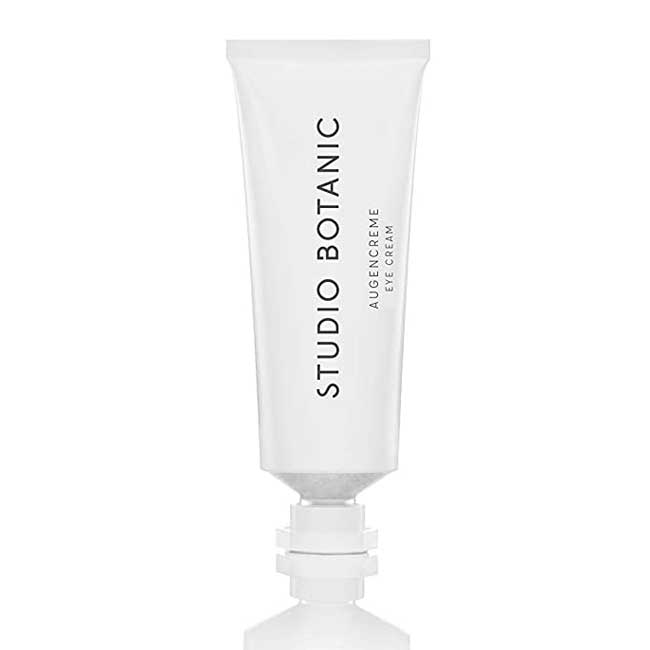 This little miracle cream by Studio Botanic is completely natural: it contains only premium ingredients such as high-quality pomegranate seed oil, rosehip seed oil and cucumber extract and thus offers extremely regenerative care for the eye area. It has a skin-smoothing, moisturising effect and lightens the unloved dark eye shadows! In addition, wrinkles are also prevented with regular use. With its very special Studio Botanic formula, this cream offers the perfect balance for your skin while providing it with plenty of moisture. It is particularly pleasant to the touch when applied. It does not contain any perfume or essential oils, but still smells deliciously of delicate rose wax. Men also love this scent and use it with pleasure! This eye cream is certified vegan natural cosmetics and is produced in Germany without animal testing. Very high quality!
Certified vegan natural cosmetics
Without animal testing
Made in Germany
---
5th place: BIOMED Eye Care Goodbye Tear Sacks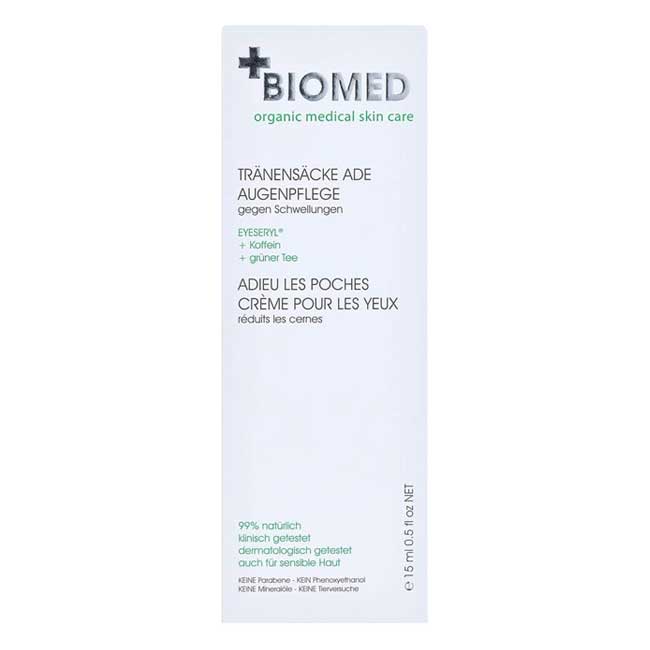 Of course, the name "Tränensacke Ade" immediately appeals to people with the corresponding problem! But it doesn't just scream for attention - it also keeps its promise: This eye care really does help especially well with bags under the eyes and puffiness! It improves the appearance of the sensitive eye area immediately after the first application. The valuable ingredient EYESERYL is a tetrapeptide with anti-oedemic properties that fights puffiness. This care comes entirely from natural active ingredients: Buckwheat wax, wild mango butter and aloe vera provide ample moisture. And the cottonseed oil contained in the product also stimulates cell renewal. For an even more intensive result, you can use BIOMED's eye serum beforehand. Caution: The cream is more like a lotion! A small drop is enough for both eyes. So it's better to use it sparingly! The eye care is manufactured by BIOMED GmbH in Munich, Germany. Without animal testing!
With natural active ingredients for bags under the eyes
Made in Germany
Without animal testing
---
What is eye cream?
Eye cream is a type of moisturiser specifically designed for the eye area. While some people choose to use general face cream on the skin around the eyes, this area requires special care.
"The skin around the eyes is thin and delicate, and it is in this sensitive tissue that signs of ageing often first appear," says and a dermatologist in New York City.
When looking for an eye cream, he says moisturisers are the most important features you should look for. However, eye creams can help with more than just moisturising the skin.
What an eye cream can do
According to dermatologists, here are the main benefits of using eye cream:
Eye cream moisturises your skin
Hydrating your under eye area is incredibly important as there are fewer oil glands in the region, which means it dries out quickly.
The solution is relatively simple. Daily application of a moisturising eye cream can prevent and alleviate dehydration.
The skin around the eyes is particularly thin and sensitive and prone to irritation. Therefore, using products specifically designed for the eye area can be beneficial. Eye cream is specially formulated to moisturise this sensitive skin area.
An ideal eye moisturiser should contain the following:
Humectants such as hyaluronic acid and glycerin bind water to the skin, she says.
Emollients such as ceramides and fatty acids improve skin texture and appearance.
Occlusive agents such as beeswax and mineral oil, form an inert layer on the skin and physically block transepidermal water loss. This is when water evaporates through the skin.
The benefits of hyaluronic acid and ceramides are well known, so finding an eye cream with them should not be difficult. These ingredients are found in many eye creams and moisturisers as they effectively retain water and replenish the skin with nutrients.
Eye cream can reduce the appearance of fine lines and wrinkles
Fine lines and wrinkles are caused by a loss of collagen - the protein that gives our skin structure - and elasticity as you get older. While measures such as sun protection and avoiding smoking are important to prevent fine lines and wrinkles, eye cream also helps.
To reduce fine lines and wrinkles, Frieling recommends choosing an eye cream with:
Peptides , an amino acid used to treat ageing skin. After penetrating the skin, they build up collagen and hyaluronic acid and hold cells and tissue together.
Retinol , a form of vitamin A , prevents ageing and increases skin elasticity by accelerating cell turnover and collagen production.
Vitamin C is an antioxidant that reduces signs of sun damage.
Hydration can temporarily plump up the skin and reduce the appearance of fine lines. In a Study from 2017 the skin showed improvement 15 minutes after applying a moisturiser. A decrease in the presence of fine lines lasted at least 56 days. In this case, look for an eye cream with ceramides, hyaluronic acid or glycerine.
What about bags and puffiness under the eyes?
If you have bags under your eyes, this may be hereditary. This means that no amount of eye cream will minimise their appearance.
The younger a person starts to show pouches and swellings are an indication that there may be a hereditary component.
Sometimes adjusting lifestyle factors - including drinking more water or sticking to a solid sleep schedule - can cure sunken eyes a little.
The microvessels in this area become permeable and can leak fluid that accumulates under the eye. This swelling usually subsides as the body reabsorbs the fluids, although this can sometimes require a few weeks of waiting.
In the meantime, the dermatologist recommends that we gently massage your face, including the skin under your eye, to improve circulation and alleviate fluid retention. And you've probably heard the advice to gently pat your eye cream upwards - this also applies.
What is eye care?
You've probably already noticed: The skin around your eyes is much thinner and more sensitive than the rest of your skin! Unfortunately, this area of the skin cannot produce as much sebum as others, which is why dryness wrinkles appear particularly quickly in this area. A good eye care product, however, helps to prevent these wrinkles by providing the skin in this special area with extra oil and moisture. Eye care products are so valuable because they are particularly gentle and precisely tailored to the individual needs of the eye area! Therefore, they are not only important for the Anti-Agingbut indispensable! By the way, good eye care not only fights annoying wrinkles, but also makes you look much more awake at the same time! And who wants to look tired all the time?
How to apply eye care
The skin around your eyes is particularly sensitive and should therefore not be exposed to too much pressure. Therefore, the most important rule is: Please apply carefully and with feeling! It is best to use your ring finger to apply the cream, as the index finger usually automatically creates more pressure. Also, do not apply eye cream all the way to the lash line. Don't worry: when the cream is absorbed, this area will still be sufficiently supplied with the product. For dark circles and puffiness, it is best to pat in the care in circular movements from the inner to the outer corner of the eye. And the perfect eye care is ready!
When you should start with eye care
Sure, when you're young you think about pretty much everything, but not eye care! Nevertheless, it is advisable - as always - to start as early as possible, as it is simply better and far more effective to prevent wrinkles rather than laboriously ironing them out once they are there. Anti-ageing experts therefore advise you to start with your first eye care at the age of 25. From the age of 30 at the latest, however, you should definitely fight the ageing process with special anti-ageing care twice a day. Because in your thirties, the elasticity and moisturisation of the skin simply decreases drastically!
FAQ - Questions and answers
I use a cleansing brush for the face! Can I also use it for the eye area?
Generally, a cleaning brush is required for Face cleansing a good idea. But please do not use it for eye care. You should definitely avoid this very sensitive area because the skin around the eyes is very thin. Irritations can occur!
I would like to try an eye massage. What do I have to pay attention to?
It's better not to rub! An eye massage mainly involves tapping and gentle pressure. To reduce annoying wrinkles, it is best to gently tap the inner corner of the eye with your ring finger in a clockwise direction. Then change the direction.
Is it true that heating air promotes bags under the eyes?
Absolutely. That's why it's recommended to turn off the heating at night. You sleep better in a cool room anyway! And a good, restful beauty sleep, along with the right products, is very important for beautiful skin!
Should I apply more or less care around the eyes?
In this case, less is more. The skin around your eyes is extremely thin and therefore cannot absorb that much cream. If you apply too much generously, it can even become offended and react with swelling or redness. So it's better to use eye care products sparingly: One lens size of cream is enough - and indeed for both eyes!
Are eye creams really necessary?
However, you do not necessarily have to use a special eye cream. Eye creams often claim to be specially formulated for the thin, sensitive skin around the eyes. Brands claim that they will help you get rid of bags under the eyes, dark circles and sagging skin, but eye creams are not a miracle cure.
Which eye cream do celebrities use?
Kim Kardashian West's dermatologist, Simon Ourian, formulates the beauty mogul's favourite under-eye remedy from his line, Epione Skincare. The cream, which has since been reformulated into a potent serum, is loaded with peptides and a collagen booster to fill sullen eyes and plump skin.