Anti Aging Cream Top 6
Which anti-ageing cream products will win the race in our 2022 test? We show you the 6 best creams and serums on the market!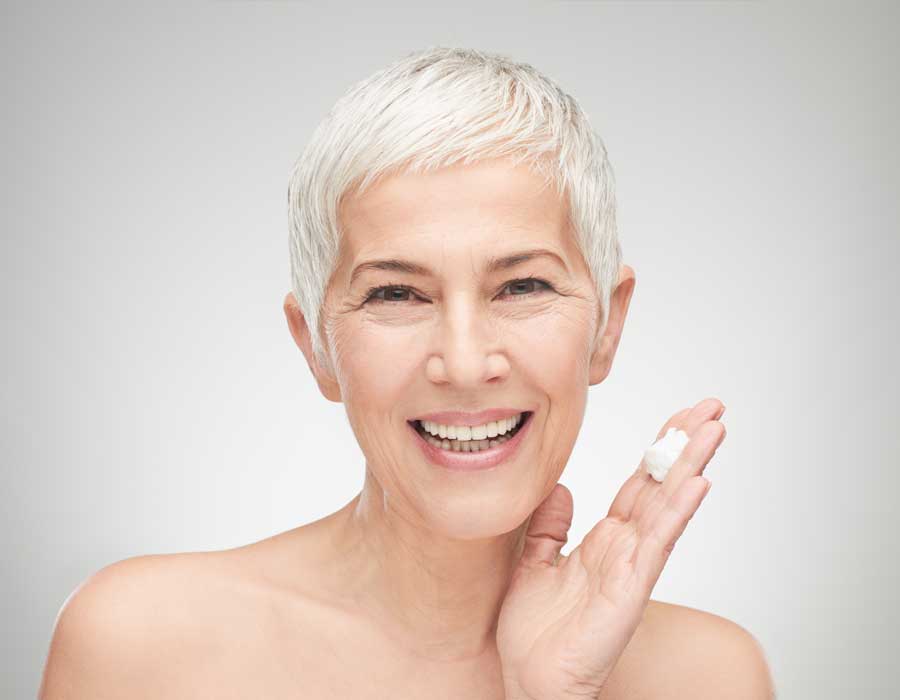 Anti Aging Cream and Serum Test
Small wrinkles, tired eyes, sagging skin? It's clear: no one wants to look old, but would like to preserve the radiant youthfulness of their skin for as long as possible! However, this does not happen all by itself, because the skin is subject to a natural ageing process over the years. But the good news is: with the right care, you can delay optical aging enormously. And the earlier you start, the better! Because once deep wrinkles are there, they hardly go away.
That is why it is advisable to take preventive measures in good time! However, there are now so many anti-ageing products on the market that it is extremely difficult to keep track of them all. Let alone find out which creams and serums are really the best! That's why we've put them to the test for you and present you with our 6 anti-aging favourites that will make your skin shine again. We promise!
Top 6 Anti Aging Cream & Serum
1st place: Anti Aging Serum
Our absolute test winner: The anti-aging serum is made in Italy with ingredients from organic farming and is Aiab Cosmetics certified and vegan. The serum can be used on any skin type, including sensitive, dry and combination skin, as it is dermatologically tested and passed both the patch test and the eye irritation test with distinction. However, as it is made up of a strong infusion of natural ingredients, in very rare cases it may irritate the skin in people who suffer from an allergy to any of the ingredients it contains. We therefore recommend testing on a small area of skin 24 hours before use to check skin tolerance. In case of eye contact, rinse well with cold water. Discontinue use if you notice persistent irritation.
On top of that, the product is absorbed very quickly. According to scientific tests, this miracle serum with its unique magic formula is four times more effective than any other on the market! In addition, the price of only 6.87 euros is absolutely unbeatable! Of course, this gives it a top recommendation from us!
Organic and vegan
Also fights hyperpigmentation
---
2nd place: Colibri Cosmetics - Anti Aging Cream High Dose
This high-dose hyaluron concentrate promises a fresher and younger complexion with immediate effect. It contains both high and low molecular hyaluronic acid. This high-quality natural cosmetic product can therefore also penetrate into deeper skin layers with its firming effect, which improves the long-term result even more. Urea and glycerin have an extremely moisture-binding effect and reduce water loss from the skin.
The cream thus ensures better elasticity and protects against dehydration. Wrinkles are effectively combated, Eye rings and also especially age spots! The serum is suitable for the face, neck and décolleté and can also be used in the very sensitive eye area. Even a small amount is enough: simply apply and gently pat in! The cream is extremely mild, so it is suitable for all skin types. Absolute recommendation!
Against age spots
Organic, vegan, without animal testing
Produced in Germany
---
3rd place: lavera anti-wrinkle moisturiser Q10
The popular anti-aging cream from the natural cosmetics brand lavera with coenzyme Q10 reduces wrinkles and fine lines, stimulates and restores fresh energy to the skin. Signs of premature skin ageing are immediately reduced in the long term. The organic jojoba oil contained in it nourishes the skin extremely and the high-quality organic aloe vera has an enormously moisturising, cooling and soothing effect. Thus, the product immediately brings a naturally radiant complexion. The cream feels very light and soft to the touch on the skin. The compatibility has been dermatologically proven and the product is free from genetically modified ingredients. lavera stands for 100% certified natural cosmetics with organic plant ingredients and is manufactured in Germany. A top day care!
Natural cosmetics
Extremely moisturising
---
4th place: Satin Naturel - Organic Hyaluronic Acid Anti-Aging Cream
Wow: This product is a true fountain of youth! The Organic Hyaluronic Acid Anti-Aging Cream by Satin Naturel fights effectively for you and your beauty with a 3-fold anti-aging complex and rich moisturising! With a very sophisticated mixture of hyaluronic acids, this cream delivers what it promises. It provides immediate plumping, general improvement of the skin's structure and a long-term anti-aging effect on the face, neck and décolleté. High-quality organic ingredients such as aloe vera, coconut juice, cocoa butter and Argan oil round off the formula perfectly. All free from chemicals, parabens, sulphates and microplastics.
The cream feels very good on the skin and is quickly absorbed. The vegan natural cosmetic product is "Made in Germany" and has been tested on human volunteers for tolerance. Both men and women are enthusiastic about the effectiveness and sustainability. By the way, for every product sold, a tree is planted in Kenya. The hammer!
Unisex
Organic, vegan, without animal testing
Made in Germany
---
5th place: Induncare - face serum
This face serum by Induncare not only contains a high concentration of hyaluronic acid, but also scores points with effective antioxidants such as vitamin C and vitamin E. The included lily extract supports mature skin in its generation, the avocado oil fends off free radicals. And the peony extract corrects the skin tone, increases the luminosity of the skin and additionally protects against UV radiation. This combination is worth its weight in gold in the fight against the ageing process. Wrinkles and age spots are literally erased. Already after the first application, the skin appears more youthful and feels significantly softer. The product also provides 24-hour moisture. Of course, this anti-aging serum can also be used on the neck and décolleté. For all skin types. A good overall package!
Protection from UV radiation
Also for mature skin
For particularly soft skin
---
6.place: UNIQ10UE Vegan Hyaluron Anti-Aging Serum
This high-dose vegan anti-ageing serum for face, neck and décolleté provides natural beauty with hyaluronic acid, sophisticated Lipo-Fill active ingredient complex and cell-active Q10+ and actively fights wrinkles, dark circles and age spots. The product activates the subcutaneous cell tissue and thus reduces the structural degradation of the skin matrix. In addition, the skin is plumped up and lifted from the inside. This means: the ageing process is stopped - in the long term! Due to the addition of vitamin E, the serum also has an anti-inflammatory effect. This product is manufactured in Germany without any animal testing or controversial additives such as parabens or mineral oils and has been dermatologically tested. It feels extremely pleasant on the skin and smells fresh!
Vegan and animal-free
Anti-inflammatory
---
How to choose the best anti-ageing cream or serum
Scan the label: The dermatologists we spoke to recommend products that contain the following ingredients:
Retinoids ( vitamin A derivatives ) promote cell turnover, stimulate collagen production and help even out skin tone.
Peptides are another important anti-ageing agent that helps repair skin damage.
Antioxidants like vitamin C and E help fight free radicals (unstable molecules that can severely damage your cells).
Hyaluronic acid, ceramides, shea butter and other moisturisers can boost and lock in moisture, reducing the irritating effects of anti-ageing ingredients.
Know your skin type: "For those who have oily skin or live in humid climates, a light cream with mattifying properties will prevent the skin from becoming weighed down and shiny," a dermatologist and beautician tells us" On the other hand, if someone has dehydrated skin or lives in a dry, cold area, a rich cream is better suited to their regime."
Factor for sensitivities: If your skin is easily irritated, look for anti-ageing creams that contain bakuchiol instead of retinol. "It actually has the same effect as retinol topical, but is less irritating because it is also an anti-inflammatory agent," says Dr Ilyas. Other possible irritants to avoid are fragrances, artificial colours and even coconut oil or cocoa butter, which can make the Pores can clog and cause eruptions.
Make sure the packaging is first class: Ingredients such as vitamin C , retinol and peptides can become unstable and decompose when exposed to air or light. Therefore, all products containing them should be packed in dark opaque tubes, preferably with airtight pumps.
However, sifting through all the anti-ageing products to find the best one for you can be overwhelming. Above, here are the anti-ageing creams and serums that experts use most.
How to get the most out of your anti-ageing creams and serums
layer in the correct order: You want your products to complement each other, not work for each other. "Unless otherwise stated, remember to use anti-ageing creams to apply all other skin care products - except your daily sunscreen ". Applying a cream before a gel or serum, for example, can prevent them from penetrating the skin properly.
Make sure that the ingredients get along with each other: Many of us layer products because we think this will increase the active ingredients that help our skin. In reality, we can deactivate them by combining ingredients that clash - and retinoids are a good example of this.
"Retinoids are some of the proven topical options for anti-ageing, but they are often deactivated by alpha hydroxy acids and benzoyl peroxide." So if you layer products and one contains AHA and one contains a retinoid, you may not benefit from the retinoid at all." (They are also degraded by sun exposure, which is why they are usually included in night creams .)
Peeling: Oiliness and dead skin cells can clog pores and impair product penetration. So it's recommended to exfoliate once a week to make sure you're getting all the benefits of your anti-ageing creams.
Store Your products properly: "The effectiveness of anti-ageing products will be compromised if you do not store your products in a suitable place". Products with active ingredients such as retinol and vitamin C should be stored in a dark, cool environment to slow down the breakdown of the active ingredients.
Be patient: "While the time needed to see visible results varies from product to product, I recommend waiting 12 weeks to see results with most anti-ageing creams," the dermatologist suggests to us.
What is anti-ageing?
The term anti-ageing (German: Alterverhinderung) is a term for measures that are intended to delay biological ageing and preserve the youthful beauty of our skin for as long as possible. Our skin and its needs change naturally over the years. This is quite normal. But a tired complexion, wrinkles, dark circles and hyperpigmentation due to sun damage can quickly make us look quite old. There are several reasons for the development of these signs of ageing: One is our genes. It is actually our disposition how quickly we age. Of course, we have no influence on this. But the good news is that we can counteract the other two important components of the ageing process.
Point two is the external environmental influences such as UV radiation and air pollution. Fortunately, we can counteract these by taking good care with a sun protection factor and antioxidants for free radicals. In addition, it is advisable to enjoy sunbathing only in moderation and with a high sun protection factor and to avoid artificial sunlight from solariums altogether. The most important and last point is entirely in our hands anyway. It is all about our individual lifestyle: for the ageing process of our skin, it plays a big role how healthy we eat, how much we sleep, how much we sunbathe, how much we eat, how much we eat. Stress we have and whether we regularly consume alcohol and cigarettes. How much water we drink also plays a major role in the moisture content of the skin. 2.5 litres of water per day is recommended for adults. So take care of yourself - for your overall health, but also for the sake of your skin!
That's why hyaluronic acid is so important in anti-ageing!
Hyaluronic acid is an important main component of our connective tissue. It fills and supports it, binds large amounts of water and is thus also jointly responsible for the skin's moisture content. In short, hyaluronic acid ensures the overall firmness and elasticity of our skin. Therefore, one of the main culprits in the ageing process is the natural slowing down of the body's own hyaluronic acid production. Up to the age of 25, the substance is produced sufficiently without our intervention, but after that we simply have to help it along a little. Otherwise, annoying wrinkles will appear and our skin will generally lose its firmness over time. That is why the tried and tested magic remedy in most cases is called Anti Aging Cream and serums also contain hyaluron! It has become indispensable in the beauty sector.
What is the best way to use anti-ageing products?
Anti-ageing creams and serums are best applied to the face, neck and décolleté in the morning and evening. Important: Before applying, it is essential to cleanse the skin thoroughly and remove all make-up residue. Otherwise the pores will remain clogged and the valuable products cannot be properly absorbed by the skin. By the way, serums are applied directly after cleansing, i.e. before using the cream.
While creams are best massaged in by slowly circling without much pressure, serums should definitely be patted gently into the skin. This helps them to penetrate the skin even better. We also recommend the use of Dermarollers or Jade Roller. They ensure that the care is particularly well absorbed by the skin and also have an absolutely holistic relaxation and wellness effect. If you haven't already done so, you should definitely give it a try. Also check out our tests!
FAQ - Questions and answers
At what age should I start anti-ageing?
Of course, this depends on the individual skin type, but on average, the use of classic anti-ageing products is recommended from the age of 25, as from this age the skin slowly loses its firmness. But even before that, you should care for your skin with plenty of moisture to prevent ageing.
Does the supply of hyaluronic acid also have side effects?
Hyaluronic acid is a natural substance of the human body, therefore side effects are largely unknown. In rare cases, however, intolerance reactions of the skin or infections can occur. However, this is more likely to happen with injections.
Is it advisable to take hyaluronic acid additionally as a dietary supplement?
Such products can make the skin firmer and smoother. However, this is usually due to the additional ingredients vitamin A, C and zinc. In some experience reports, however, people complain about weight gain due to water retention after taking hyaluron. However, this has not been scientifically proven. Nevertheless, we recommend the variant of external supply through creams and serums.
Can deep wrinkles also disappear again?
Difficult. Wrinkles and especially fine lines that have already appeared can be improved enormously with anti-aging products. However, once deep wrinkles are there, they are very difficult to get rid of completely. Therefore, prevention through moisturising and an early start with anti-aging products are absolutely recommended!