Curling Brush Top 5
You want to style yourself for the party in the evening? Or just want to surprise your boyfriend? Conjure up voluminous curls in no time! But which curling brush is the best? We present the five best models according to our experience.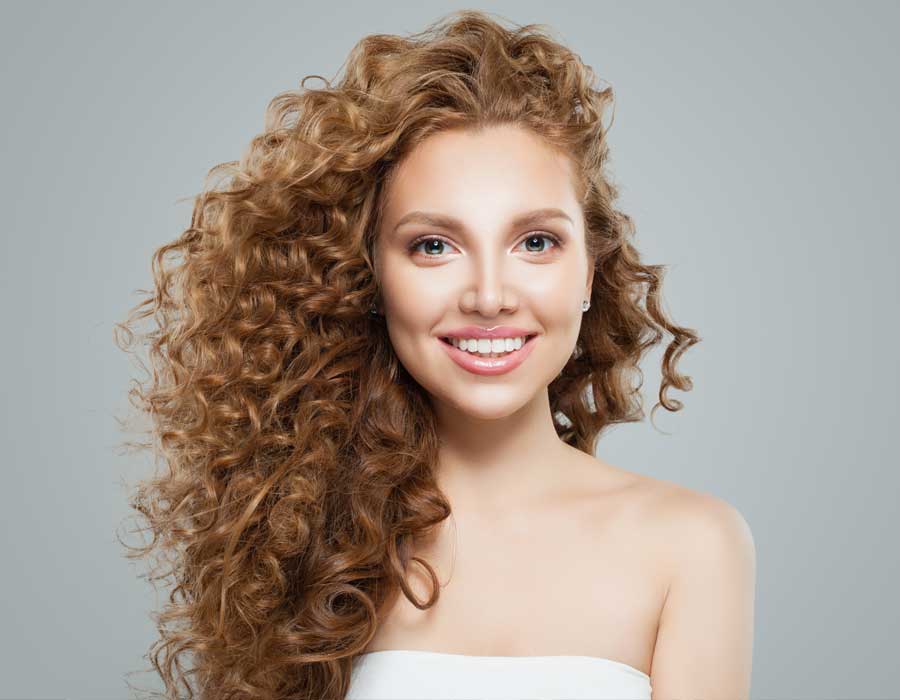 Curling brush test
Whether shorter or longer hair, curling brushes are very popular with style-conscious women! No wonder, after all, you can style a lot of volume into your hair in a short time with the handy warm air brushes. The hair is protected, the effect wears off after a few hours, which has the advantage that the hair structure is hardly stressed. You don't like curls? No problem!
Many curling brushes are also suitable for straightening. This makes the curling brush a must-have if you want to style yourself up in the evening! From our professional experience, but also from conversations with other experts, we have selected a few models that allow you to achieve great results without much practice. Price, functionality and appearance vary greatly, so it's worth taking a closer look at the individual models. Our top 5 in the curling brush test.
The 5 best curling brushes
1st place: Braun Satin Hair 5 Airstyler Airstyler AS 530
Braun's Satin Hair range is the top dog when it comes to curling brushes. Why? Braun stands for German brand quality with long experience. Especially in the sensitive hair area, this is an advantage, because thanks to its three attachments (styling brush, maxi-curl brush, volumiser), the Airstyler V5 is not only suitable for almost all hair lengths and styling wishes, it also styles your hair particularly gently and effectively. We particularly like the powerful output (1,000 watts), which, with wet hair, can exceed the normal power of a hairdryer. Hairdryer The operation is pleasantly simple and intuitive. However, the power also comes with a certain size. So why exactly did version 5 land in first place? The curling brush ranks between the professional model 7 and the older model 3 in the Braun portfolio - and thus offers the optimal price-performance ratio for most women!
Much power
Gentle styling
3 styling attachments
---
2nd place: Braun Satin Hair 7 Airstyler Airstyler AS 720
Braun's latest and highest-quality curling brush variant comes in second place. The Satin Hair 7 Airstyler delivers slightly less power than the first-placed model in the test at 700 watts, but offers IonTec, an ionic technology that effectively prevents frizz and static. There are two attachments, the Maxi-Curl brush familiar from version 5 and a unique comb attachment that helps you maximise your volume quickly and easily. Especially for thinner hair, the Airstyler 7 can fully convince as a curling brush. It is important to clean the sieve regularly to avoid overheating. But this can be done with a flick of the wrist. All in all, Satin Hair 7 is the professional model for those who want maximum volume fast.
Ion technology for frizz
Well suited for thinner hair
Maximum volume in a short time
---
3rd place: Philips Airstyler HP8663/00
If you put the Philips Airstyler and the Braun models next to each other, the differences are immediately obvious. But the differences are not only in the design, the accessories also vary. The Philips comes with four brush attachments: a paddle brush for straightening, the 38mm thermal brush for smooth hairstyles and waves, a version with retractable brushes (which Braun does not have) for waves and curls, and a styling nozzle for targeted styling and drying. This already shows the versatility of the Philips Airstyler curling brush, which more than justifies the rather high price. In practice, the Philips allows for smooth, soft, velvety hair, and can be used for straightening (important here: re-brushing!) as well as for curling. Another plus point is the two temperature settings.
Versatile
Two temperature levels
800 watt power
---
4th place: Revamp Progloss Perfect Finish
The Progloss Perfect Finish curling brush offers a whole range of plus points. The bristles of the brush can be retracted - this allows you to pull the brush out of the curl without destroying the hairstyle. In addition, the Revamp brush is ready for use after just a few seconds, and the temperature can be individually adjusted via five heat settings between 150 and 210 degrees. Another special feature is the super-smoothing oils (keratin, coconut, agan) that are released into the hair during treatment, and there is also a ceramic brush with an ionic function. Less spectacular, but all the more practical: the cable of the curling brush is very long at 3 metres. In practice, it is also noticeable that the brush is suitable for both dry and damp hair and is equally convincing when curling and straightening. However, heat protection would be desirable.
Ion technology + super smoothing oils
Five temperature levels
Suitable for curling and straightening
---
5th place: Fripac Mondial Curling Brush Stylie Wonder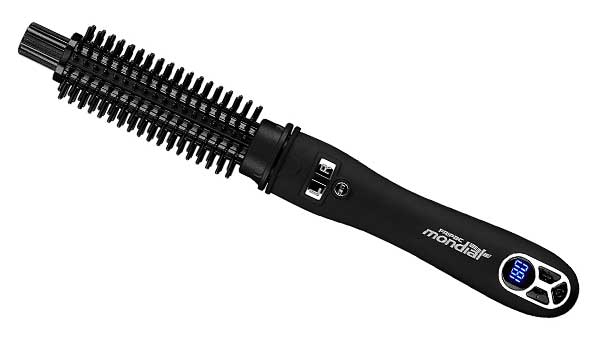 The most exclusive model in our test comes in 5th place. The Fripac Mondial curling brush has an automatic twist-in mechanism that can be adjusted in the direction. The temperature can also be adjusted between 100 and 220 degrees, which can be read off the display at the bottom of the handle. Despite these features, practical aspects are not neglected. The cable is 3 metres long and has a swivel coupling, the tip is heat-insulated, which prevents hand burns. The twist-in function takes a little getting used to for curling brush beginners, but is extremely practical with a little practice. Especially with medium-length and longer hair, great curls can be created in a short time. The only real disadvantage is the high price.
Automatic insertion device
Individually adjustable temperature including display
Heat insulated tip
---
What is a curling brush?
A curling brush, also known as a hot air brush, is the perfect accessory to bring your hair into perfect shape after washing it. Despite the name curling brush, many models are not only suitable for creating curls, you can also straighten your hair with it. The shape is similar to a normal Round brushbut the function is more like a hairdryer. This has many advantages: You can wrap the damp hair on the brush and then dry it from the inside out. This keeps the hair in shape without unnecessarily straining it. In contrast to Curling irons Curling brushes do not work with direct heat on the hair, but rather blow warm or, depending on the model, cold air onto the hair. This is one of the reasons why a curling brush treats the hair much more gently than a hairdryer. Straightener or a Curling iron. Many models come with different attachments, which further increases the possibilities of use. Powerful models with 800 watts or more can also be used as an almost full-fledged hairdryer replacement.
How do I use a hot air curling brush?
Hot air curling brushes are considered by many to be one step further than a conventional curling iron. The two have the same basic curling iron barrel design, but of course hot curling brushes have a round bristle brush barrel instead of a metal barrel.
A hot air curling brush increases volume when curling, while the bristles sweep through the hair to lift and separate the strands. This makes your results super bouncy and shiny! However, it can be a little tricky to get that bouncy look if you don't know what you're doing. This is where we come in! Here's everything you need to know about using a hot curling brush to get the best possible results, rather than a frizzy mess.
What should I look for in a curling brush?
The uniform term curling brush or hot air brush conceals numerous different products with different features. This is best illustrated by the Braun Satin Hair line. With models 1, 3, 5 and 7, there are four variants from this manufacturer alone that differ fundamentally in some details. One aspect you should definitely pay attention to is the temperature. High-quality models in particular often offer different temperature levels. This is important because the higher the temperature, the greater the stress on the hair.
Another aspect you should pay attention to with curling brushes are the attachments. Are there different ones for straight and curly hair? Can the bristles be pulled in? And what about very practical points: Is there a heat protection? How long is the cord and does it rotate? You should also pay attention to these points. If in doubt, it is better to go for a higher-quality and more expensive model. This will save you frustration and burns and you will always look your best!
Curling brushes with ion technology
At Föhns and curling brushes, so-called ionic technology is playing an increasing role. But what is it exactly? And what does it do? The problem behind it is the so-called "antistatic effect". This occurs when two positively charged particles repel each other. Sounds like a physics lesson in school, but in the end it just means that your hair repels each other - because it is positively charged - and therefore sticks out uncontrollably. This is where ionic technology comes into play. It negatively charges the air that is sucked in, which neutralises the positive charge of the hair and results in clean, silky hair on the head. Of course, this technology is used to a certain extent as a product advertising feature, but you should still pay attention to it - and ideally try out both variants. If your hair is naturally very straight and slippery, the ionic technology may have a negative effect and increase the slippage. The secret tip here is to combine your hair Ion curling brush with styling foam. This way you don't have to do without the advantages of ionic technology and your hairstyle lasts longer.
FAQ - Questions and answers
How many watts does a curling brush have?
As with the hairdryer, this depends somewhat on the model. Simpler variants sometimes only deliver 140 watts, luxury models from Dyson up to 1,300 watts. In general, the more power, the stronger the effect.
How hot does a curling brush get?
The temperature of many models can be adjusted, usually within a range of about 150 to 200 degrees Celsius. Caution: Especially with simpler models, there is often no heat protection and there is a risk of burns.
What is the difference between a curling iron and a curling brush?
Besides the obvious difference - the brush has bristles, the wand does not - there is another important aspect: with the curling iron, the wand itself becomes hot, whereas with the curling brush, hot air is blown out instead.
For which hair types is a curling brush suitable?
Most high-quality curling brushes are suitable for a variety of different hair lengths and types. Some increase the flexibility even more with additional attachments.