Alpecin experience and test
The Alpecin shampoo in the salon test. Does Alpecin help against hair loss? We have made the experience with the customers and compiled it for you.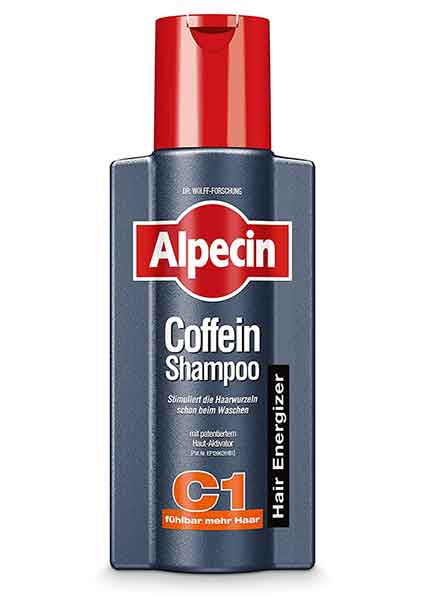 Alpecin Caffeine Shampoo our evaluation
After 3 months of use, we could unfortunately not determine any meaningful effect on our customers.
Caffeine is an excellent jolt in the morning or even a pick-me-up in the afternoon. However, Alpecin could not convince us.
What if we told you that there are also alternatives? We have chosen an alternative shampoo for hair loss in our salon. Here are our top 10 hair loss shampoo recommendations that we have successfully tested.
Nevertheless, in this post I introduce you to the caffeine-based hair care brand Alpecin. This includes an introduction to the shampoo and a look at the claimed benefits and ingredients of the product.
I will also look at the research that supports caffeine consumption in men and women with hair loss. This can help you decide if caffeine is really as powerful as many people claim.
What is Alpecin Caffeine Shampoo?
Alpecin is a hair care brand with a range of Hair care products caffeine-based.
The product line consists of two shampoo formulations, C1 and CTX, and an after-shampoo solution.
What are their demands?
The Alpecin brand does not go so far as to say that their product line stops hair loss and your hair grows back.
However, they say that their products are designed to "wake up the hair" and that their shampoo formulations in particular "help the hair feel stronger".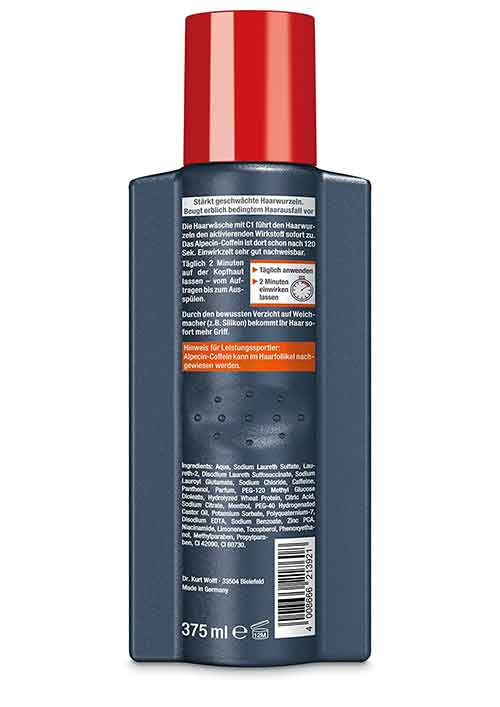 Why caffeine?
The active ingredient in Alpecin Caffeine Shampoo is caffeine. But why caffeine and what benefits could it have?
As you probably know, caffeine is a stimulant that occurs naturally in many plants (e.g. coffee beans, cocoa beans, tea leaves, etc.).
The stimulant is used in both prescription and over-the-counter medications to promote alertness and even treat migraines.
But what does caffeine have to do with hair?
There is actually a growing body of research on the benefits of caffeine, and one of them is hair growth.
Here to the Top 16 Hair Growth Serum which we were able to test with success.
Study: Friedrich Schiller University, Germany (2007)
Perhaps the most convincing study on this topic was published in 2007 by researchers at Friedrich Schiller University in Germany (1).
In this in vitro study, scalp biopsies were taken from the scalp of 14 men with androgenetic alopecia (AGA). The hair follicles were then cultured in either a concentration of testosterone, a concentration of caffeine or a combination of both for 120 to 192 hours.
At this point, it is clear that testosterone, the male sex hormone, plays a role in genetic hair loss. Therefore, the researchers expected that the testosterone-cultured Hair follicle show poor growth of the hair shaft.
However, the researchers wanted to know that 1) caffeine could stimulate elongation of the hair shaft; and 2) caffeine could stimulate elongation of the hair shaft even after it had been exposed to testosterone.
As the researchers had expected, the caffeine concentration lengthened the hair shaft.
And more importantly, the extent of elongation is directly related to the time the follicle was exposed to caffeine.What about hair shafts that were first exposed to testosterone and then caffeine?
Interestingly, these also showed a significant increase in length. So it was not only shown that caffeine increases the Hair growth stimulated, but it can also do so in response to androgenetic hair loss.
Even better, these results were confirmed by another study with a similar focus.
Alpecin Caffeine Shampoo Ingredients
When considering whether a hair product suits you, always look at the ingredients list.
There are actually two different shampoo formulations marketed by Alpecin.
The first is Alpecin C1 Caffeine Shampoo and the second is Alpecin Sport CTX Caffeine Shampoo.
The ingredients of Alpecin C1 Caffeine Shampoo are as follows:
Water, sodium laureth sulphate, laureth-2, disodium laureth sulphosuccinate, sodium lauroyl glutamate, sodium chloride, caffeine, panthenol, fragrance, PEG-120 methyl glucosedioleate, hydrolysed wheat protein, citric acid, sodium citrate, menthol, PEG-40 hydrogen castor oil, potassium sorbate, polyquaternium-7, disodium EDTA, sodium benzoate, zinc PCA, niacinamide, limonene, tocopherol, phenoxyethanol, methylparaben, propylparaben, Blue 1, ext. Violet 2.
You will certainly notice some "natural" ingredients, including caffeine, castor oil, menthol, panthenol and tocopherol.
There are also some ingredients you may have seen in other over-the-counter shampoos and cosmetics, such as the detergent and surfactant sodium laureth sulphate (SLES).
How do the ingredients of Alpecin CTX Caffeine Shampoo compare? Let's have a look:
Water, sodium laureth sulphate, laureth-2, disodium laureth sulphosuccinate, sodium lauroyl glutamate, sodium chloride, taurine, caffeine, panthenol, propylene glycol, citric acid, PEG-120 methyl glucosedioleate, fragrance, sodium citrate, PEG-40 hydrogenated oil, potassium sorbate, polyquaternium-7, sodium benzoate, calcium gluconate, disodium EDTA, magnesium gluconate, zinc PCA, hexyl cinnamon, niacinamide, tocopherol, linalool, glycine soybean oil, limonene, Biotin, Methylparaben, Propylparaben, Sodium , Yellow 6.
There are some differences, although the addition of propylene glycol in this formulation is perhaps the most noticeable.
Why exactly is this particular ingredient important?
Propylene glycol is an alcohol and as such has drying effects on the scalp (3).
This has been documented several times and its problems have even led to other brands (such as Rogaine) developing an alternative product without it.
Does this mean that you have a similar reaction to the CTX formulation? No, not necessarily.
However, if you have sensitive skin, it is best to avoid the Alpecin CTX Caffeine shampoo and use the C1 formulation or another brand instead.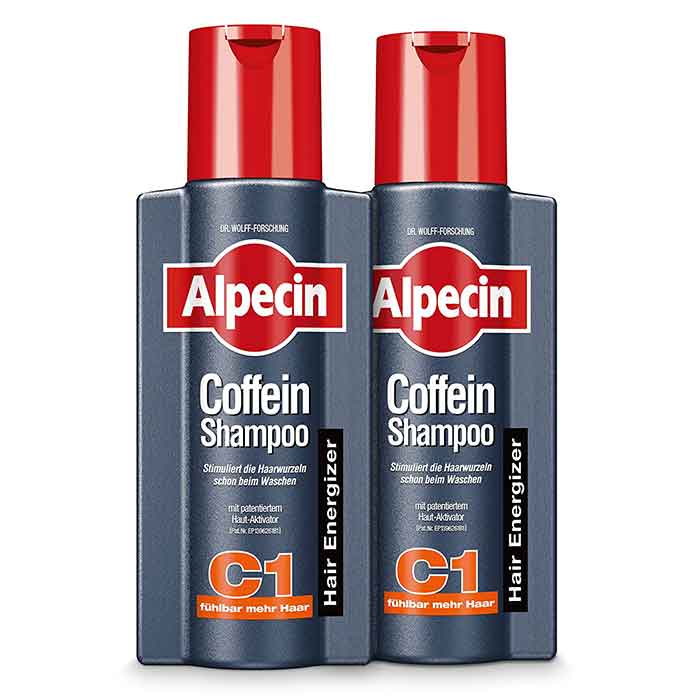 Alpecin reviews: What real customers have to say
It makes sense that the company only has great things to say about its products. But the best place to look is for real customers.
The ratings for the C1 formulation are good overall.
The product has 3.8 out of 5 stars and 58 reviews.
There are many customers who claim that they lose less hair within a few weeks. There are also those who claimed to use the product for months as stated without any results.
While customer reviews can be a helpful place to look for common themes - e.g. side effects, product quality and structure, etc. - it is important to remember that they are very subjective. They can give an insight into the effectiveness of the product, but do not tell the whole story.
Caffeine shampoo versus minoxidil: A research case study
If you want to slow down hair loss and stimulate hair growth, you have probably heard of the hair restorer Minoxidil. This drug is known under the brand name Regaine.
Minoxidil has been shown to be effective in hair growth in men and women with AGA. However, there are some side effects associated with its use and many people prefer a natural approach to hair growth.
In 2018, researchers from India and Germany published a study showing the efficacy of a caffeine-based topical liquid of 0.2% versus 5% of Minoxidil in men with pattern baldness (4).
The study started with 210 male subjects with AGA. The list of men was randomised and assigned to one of two groups:
The control - 5% minoxidil at 1 ml twice daily.
The test - 0.2% ige caffeine solution at 2 ml twice daily.
The study consisted of four visits to the study centre. These included:
Visit 1 - Screening conducted three days before the baseline visit.
Visit 2 - The baseline visit, which the researchers counted as the first day.
Visit 3 - The treatment visit that took place on day 90.
Visit 4 - The end-of-study visit that took place on day 180.
As the researchers noted, there was a three-day hair-washing quarantine before visits three and four.
The primary outcome the researchers hoped to assess was the percentage change in the proportion of anagen hairs, or anagen rate (AR).
After six months of treatment, the results were as follows:
The 5% minoxidil solution was associated with a non-significantly higher increase in AR from baseline compared with the topical 0.2% caffeine-based liquid (11.68 ± 12.44 per cent versus 10.59 ± 12.02 per cent).
These results were obtained when the researchers used the per-protocol (PP) analysis, which leads to some bias (5).
So what about the results of the intention-to-treat (ITT) analysis?
The results did not differ significantly, with the 5% minoxidil group showing an increase of 11.27 ± 13.02% and the topical 0.2% caffeine-based liquid group showing an increase of 11.89 ± 11.78%.
What do these findings suggest about men and women hoping to use caffeine-based products to regrow their hair?
They ultimately show that caffeine-based solutions can be a non-inferior solution to minoxidil 5%. However, there is one important factor to consider:
This study was funded by Dr Kurt Wolff, the inventor of Alpecin.
This does not mean that the results of the study are biased or wrong in any case. However, it would be helpful to see a larger sample study conducted by a non-associate.
Side effects of caffeine shampoo
NOTE: This section describes the side effects that may occur when using caffeine shampoo. The side effects mentioned below are in no way attributed to Alpecin.
As caffeine is a stimulant, there is a possibility of side effects even when applied topically.
The two most serious side effects are cardiovascular and vascular (6).
In terms of cardiovascular effects, caffeine has been shown to increase blood pressure and heart rate (7). For this reason, men and women with cardiovascular disease should limit their caffeine intake and possibly consider another topical solution for hair growth.
When it comes to vascular effects, caffeine is a vasoconstrictor (8). The stimulant constricts blood vessels, which raises blood pressure and can increase the risk of coronary artery disease.
If you suffer from cardiovascular or vascular disease, it is best to avoid caffeine-based hair care products.
The less serious side effects of caffeine include irritability, anxiety and shakiness.
If you notice any of these side effects when using a topical caffeine solution, you should stop using it until you have spoken to your doctor.
Alpecin Caffeine Shampoo: The final verdict
If you are interested in a natural approach to hair growth, a caffeine-based shampoo may be what you are looking for. Can I still recommend Alpecin? Not necessarily.
It is true that Alpecin products contain caffeine. But that's not the only thing they contain. They also consist of preservatives and cleansers that can strip your scalp of its natural oils and ultimately cause further irritation.
So if you think caffeine shampoo is for you, I strongly recommend you do your research. You should consider all the options available so that you can choose the best products for your needs.
We recommend our 16 of the best Hair Growth Serum.
FAQ - Frequently asked questions
Is Alpecin good for your hair?
Alpecin shampoo is helpful in curing more than a few scalp problems. For this reason, the shampoo is an ideal solution against Shed, itchy skin and hair weakening. Alpecin shampoo is good for strengthening the hair. Alpecin contains caffeine, which helps to strengthen the hair follicles from the inside.
Does Alpecin stop hair loss?
Alpecin provides your hair with caffeine so it can actually help reduce hair loss. Simply apply daily and leave on for 2 minutes. So that the caffeine complex penetrates your hair and scalp. We have the detailed test here.
Does Alpecin have side effects?
Alpecin products are generally well tolerated. The active ingredients can irritate sensitive scalps in the form of itching and redness. Leave the shampoo on for a shorter time in case of skin irritation.
Will Alpecin regrow hair?
Alpecin is a shampoo that, like many others, claims to stimulate the scalp and promote hair growth. According to them, this is done through the power of caffeine, using a case study from 2007 to prove their point. Here is our Alpecin experience.