Hairspray Top 6
Which hairspray is the best in our 2022 test? We present our TOP 6 favourites here!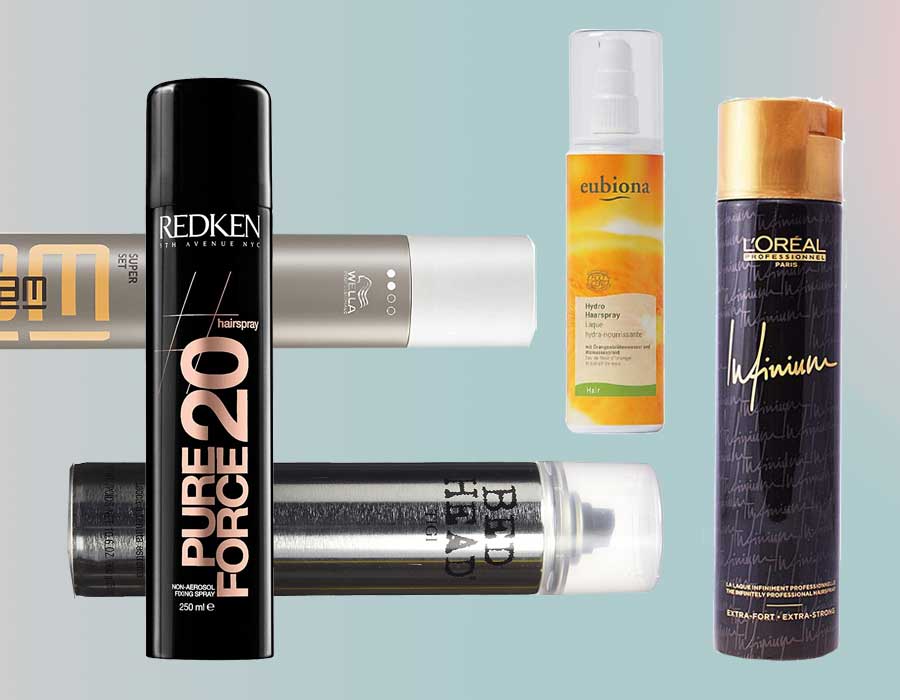 Hairspray test
"Berlin, wind force 5. The hair sits." Can you still say this slogan from the famous hairspray commercial from the eighties? It's cool to see that the basic requirements for a good hairspray haven't changed forty years later: The most important thing is still good hold. That's for sure! However, many practical care components have been added over the years. In 2022, hairsprays are true all-rounders that protect and care for the hair and scalp and smell great at the same time!
This way, finishing the hairstyle becomes a moment of pleasure at the same time. But it's quite challenging to find the right product for you, because the choice is almost endless. To help you decide which hairspray suits you and your hair best, we have compiled the Hairspray test and present you with the six best products on the market.
The 6 best hairsprays
1st place: Wella EIMI Super Set
Drum roll: This professional hairspray from Wella is our absolute price-performance winner! Why? Because it has everything that makes a good hairspray: It provides strong hold and overwhelming volume! And it does so without weighing the hair down unnecessarily or even annoyingly sticking to it! In addition, the product smells wonderfully of a fruity floral note and additionally cares for the hair with panthenol. The spray protects the hair from environmental influences such as humidity, UV light and heat! At the same time, it offers full control over the individual style with an extra-strong finish that actually lasts all day with the help of this super product. This professional hairspray promises a cool look straight from the hairdresser and is also easy to comb out. In addition, the price of 11 euros is absolutely top for a professional product!
Good price-performance ratio
Pleasant fragrance
Care through panthenol
---
2nd place: PHYTO PHYTOLAQUE Design Hairspray
Voilà! This cool, aerosol-free hairspray from the high-quality Parisian brand PHYTO is a real miracle weapon for your hairstyling! This product will definitely give your look the perfect finish! It does not contain any propellants, is free of silicones and has a pleasant floral scent. The acacia honey contained in it is also extremely nourishing and provides sufficient moisture in the hair. This French hairspray is also very well tolerated by sensitive scalps. Another positive feature is the very fine atomiser. Thanks to its pleasant size, the chic part fits perfectly in the handbag and is therefore also ideally suited for a quick touch-up on the go. Great product!
Without propellants and silicones
Care through acacia honey
Very fine atomiser
---
3rd place: L'Oréal Professionnel Infinium Hairspray Extra Strong
Whether your individual hair creation is clearly defined, deliberately tousled, crimped, curled or simply voluminous, this spray will give it the perfect finish and extreme hold! The Infinium product from the well-known French brand L'Oréal does not contain any silicones! However, it is important that you apply the spray at least 30 centimetres away from the hair, otherwise it can stick together quickly. But if you take care of this and apply with a bit of dexterity, the result is wonderfully dry and the spray leaves no visible residue. The scent of this product is intensely floral, so it stays in the hair for a long time, which is really pleasant.
Without silicones
Long lasting fragrance
Extra strong hold
---
4th place: Redken Pure Force 20
The innovative brand Redken 5th Avenue NYC has always stood for high-quality Hair care like in the hairdressing salon. And the cool Pure Force 20 hairspray doesn't disappoint at all! It does not use any propellant gas at all, but still provides a very good hold! The hairstyle doesn't look like it's been concreted over after application, but stays nice and fluffy. A little caution is advised, however: The spray can be very strong! Therefore, less is more with this product. The advantage is that you can enjoy it for a long time. The hairspray does not stick to your hair and cares for it with high-quality wheat protein. The pleasant fresh scent is also convincing.
Without propellant gas
Very good hold
Care through wheat protein
---
5th place: TIGI Bed Head Hard Head
The professional hair cosmetics brand TIGI has its origins in the vibrant city of London. And their products are just as inspiring: Vibrant, unique and intense! This hairspray also lives up to this reputation. Used correctly, it gives extremely strong hold throughout the day. However, the spray mist is not particularly fine and may even form larger drops. Therefore, you should apply the product from a distance of 10 to 12 centimetres. But then the result is stunning - an absolutely natural finish, without any stickiness. The spray also has an intensely fruity scent. A little pro tip: If you want to increase the firmness even more, you should apply the product in several layers. Then it lasts almost indefinitely! Another advantage: This hairspray is especially adapted to the needs of coloured hair and cares for it extremely well!
Top care for coloured hair
Intensely fruity fragrance
Holds bombproof
---
6th place: Eubiona Hydro Hairspray
If you value natural cosmetics, this is the product for you! The popular Bio Hydro Hairspray is made from natural ingredients without silicones and focuses on compatibility and care. However, this does not detract from the hold quality: the hairstyle is ideally fixed! In addition, the enormous care aspect is convincing: especially dry hair and scalp are pleasantly cared for by high-quality orange blossom water. The walnut extract, which is also included, also gives the hair better structure and greater resilience! In addition, this natural cosmetic product smells wonderfully fruity! Another bonus: Eubiona products are produced without animal testing! A little application tip: First comb your hair, apply the spray, then comb your hair again lightly and then apply the product again. This way, the result is guaranteed to be perfect!
Organic quality
Without animal testing
Cares for dry hair and scalp
---
What is hairspray?
Hairspray is classically an aerosol product. It is usually applied to the hair with the help of a propellant gas. When it dries, the spray forms a film on the surface of the hair that binds the individual hairs together like an invisible hair net. This fixes the hairstyle and, in the best case, it lasts all day. Although the ingredients are not harmful according to the manufacturer's instructions, the fine print states that the aerosols should not be inhaled directly and should not get into the eyes. So it is best to always hold your breath and close your eyes when spraying. As an alternative to aerosols, there are now also pump sprays that do not contain any propellants. The spraying process is carried out by a mechanical pump. However, the drying time is somewhat longer with such products due to the lack of propellant.
What makes a good hairspray?
A good hairspray must first and foremost offer reliable hold! And it doesn't matter whether it's storming, raining or snowing outside! Nevertheless, the hairstyle should not stick to your head like a concrete block after use, but still look airy and natural. In the best case, the hairspray also cares for your hair and scalp with every application. Therefore, products that do without silicones, artificial perfumes and parabens and instead contain additional, natural care substances are particularly recommended.
It is also important that the spray can be combed out again in the evening without leaving any residue - and without excessive pulling and dusting. The icing on the cake is the scent: Some hair sprays leave an almost unpleasant smell in the nose. That doesn't have to be the case. There are also products that smell wonderful - like our favourites. Of course, if you have a sensitive nose, you should definitely pay attention to this when buying!
Hairspray for thin hair
You probably want to focus on volume and hold. Usually, men with thinning hair get the best natural oil from the scalp because it works easily from root to tip. So you want a boost.
The worry is that you choose a hairspray that makes your hair stick to your scalp, and now you're the creepy guy, not the polite guy.
You want to search for keywords like "boost", "volume" and "lift". Look at the image provided by Wella as a good hairspray for thin and thinning hair.
Hairspray for thick hair:
Men with thicker hair love to style; they love to flaunt and get creative.
All good, but they tend to struggle with dry hair, frayed ends and frizz. Unlike thin hair types, thicker hair types have difficulty realising the true benefits of the scalp's natural oils (especially at the ends, causing frizz). Therefore, using products that contain some natural ingredients to strengthen the hair and treat stray ends is certainly helpful.
Consider the Spray from L'Oréal as a good answer to treating thicker hair with the added benefit of Instant Hold Without Sticking.
Hairspray for curly hair:
Why don't men with curly hair use hairspray? Because they think it holds too much or mattes the natural curl and wave. This is not true! You just need the right product. Curly hair needs to be styled properly, but you need to look for a product that enhances the bounce and movement of your hair.
Curly hair can also be fun and playful, but there is a fine line between trendsetter and "guy looks crazy". Usually the best hairsprays for men with curly hair are alcohol-free, so your hair can move but manage frizzy ends.
So, how do you use hairspray?
The history of hairspray
Hairspray was invented in 1955 and from then on started a meteoric success story! The first brand names at that time were Wellaflex and Taft. The technical prerequisite for hairspray was the invention of the classic spray can that can atomise liquid. This technique was discovered by the American Robert Abplanalp. The raw material for the production of hairspray was initially shellac, the natural secretion of the lacquer scale insect, which is also used to make records and today even fingernail polish. Today, shellac is also used more often in natural cosmetics. Madness: Hairspray gained such great popularity over the years that in 2005 its production even took second place in the aerosol market with 229 million cans. To this day, almost 10 million Germans use hairspray every day. In addition, there are an incredible 13 million who reach for the popular spray can at least once a week.
FAQ - Questions and answers
What is the difference between hairspray and hair lacquer?
Basically, both are hair sprays. The lacquer is just something like a further development. While the comparatively light hairspray is suitable for fixing the entire hairstyle and does not dry immediately, hair lacquer only strengthens and emphasises certain parts of the hairstyle. It promises strong hold and dries in seconds.
Is there an alternative if I don't want to use hairspray?
Yes, for styling hairstyles are also Hair gel or hair oil is well suited.
Can I also use hairspray on wigs or hair extensions?
Of course! However, they have to be made of human hair.
Is hairspray bad for the environment?
Greenpeace denounces that most hairspray products contain liquid plastics. These eventually pollute our waters when we wash our hair. But so far there have been no studies on what these water-soluble plastics really do to the environment. Greenpeace demands that cosmetics manufacturers do without microplastics.