Lazru, experience and test 2023
We have the Lazru Eyelash Serum and Eyebrow Serum in the test. We'll show you our experiences here. Is Lazru really effective for eyelashes or Eyebrow Growth? Lazru is currently not available on Amazon, but only online and in exclusively selected salons. Current Lazru experience and test 2023.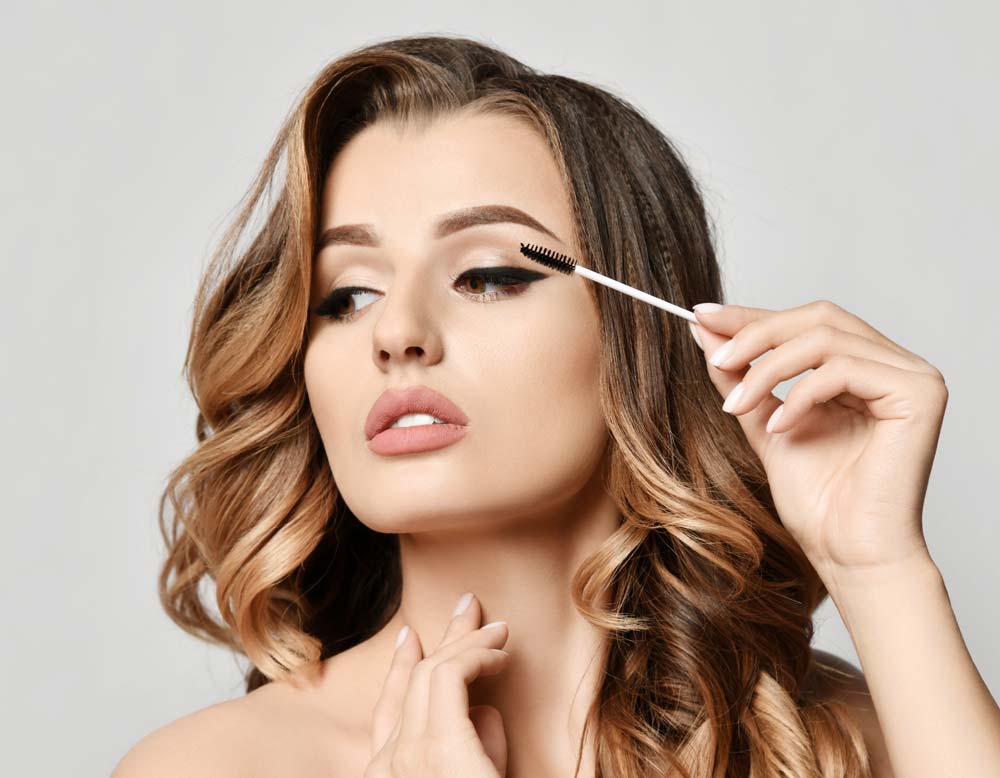 What exactly is Lazru Eyelash Serum and what is it used for?
Lazru is an eyelash serum & eyebrow serum in one. This means that this serum ensures eyelash growth or eyebrow growth.
It promises not only longer, but also thicker eyelashes and eyebrows with regular use. As we already mentioned in our Top 10 post, there are many Eyelash Serums and prices range from super cheap drugstore brands to super expensive. We have tried cheap dm eyelash serum before, but they don't show significant changes after use.
After reading many positive reviews about Lazru and customers asking about it more and more, our expectation was definitely high, especially for the price.
Lazru side effect?
One of the frequently asked questions is whether Lazru has side effects? The answer is: Lazru has no known side effects. With 95 % of natural active ingredients, the serum is integrated into the cosmetic range - it is not a medicine. The remaining 5 % are skin-friendly preservatives. A slight itching during the first application is normal. Lazru does not use hormones or medicines. Thumbs up! Too good to be true? We will continue to monitor.
Lazru test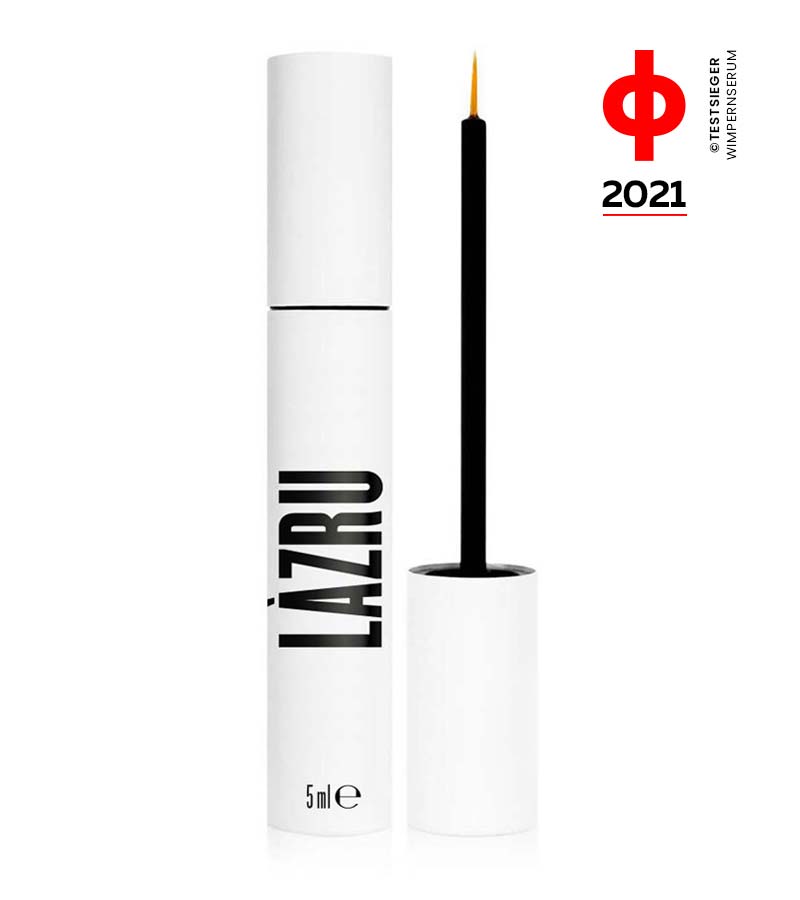 The Most difficult with the Use of an Eyelash Serum is the Getting used to the extra step in the night-time routine. To see the effect of the serum, you need to apply it regularly to your lash line in the evening. It helps to remind yourself by making a note in your calendar or putting the serum on your nightstand. Surely our test customers have skipped 2 or 3 days in the last few weeks, because they were either not at home or simply forgot. Let's see what the before and after results were in our Lazru test. We are still very curious to see whether the price is worth the effect.
In the picture above, you can already see that the eyelashes are definitely longer than 6 weeks ago! And we don't use mascara in the pictures!!! Wow....and we were even more surprised when we compared the lashes with our eyes closed. The sheet of paper helps to see if the lashes are thicker and denser. The result blew us away! Since then, we have also been using the Eyelash Serum in our Salon in Munich.
Lazru experiences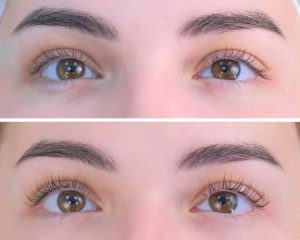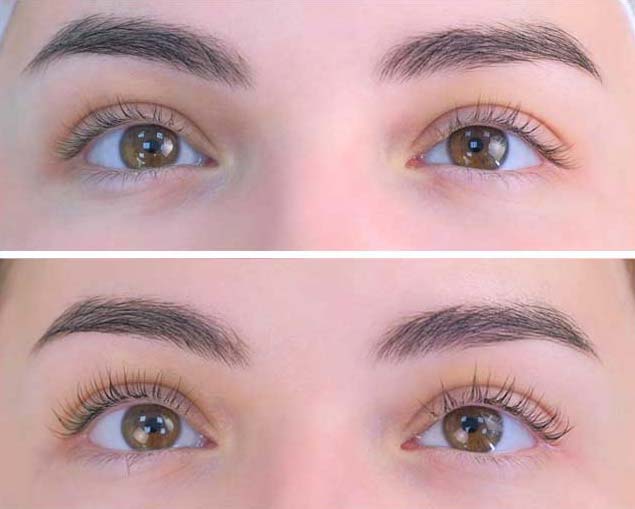 I am Lydia, reporting on my experience with Lazru:
I'm at the stage where I don't want to lose my new lashes and as I sit here writing this, my lashes look even better. Lazru recommends that you use the serum until you get the result you want. Then just use it 2/3 times a week to get that result. I think I'll have to buy the next one! You may need two bottles if you feel your lashes are not quite there after one.
Short said , Lazru works and is worth buying at 100%.
Because Lazru is so strong, the brand has to control where they sell it, but the good news is that it is online with FREE delivery is available and internationally shipped! The great thing is that Lazru is not only suitable for eyelashes but can also be used for eyebrows.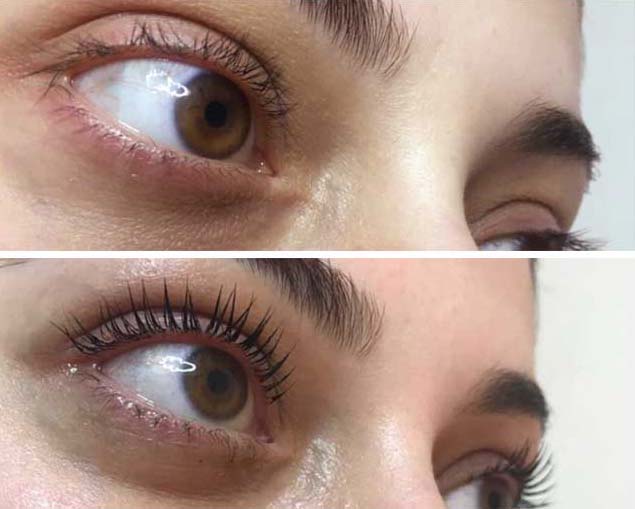 Anonymous would also like to tell us about your Lazru experience:
Just as a quick note for those who don't know Lazru, Lazru is an eyelash serum as well as an eyebrow serum that strengthens the lashes, makes them fall less and therefore look fuller and longer. I made it clear in my 1 month update photo that I was very impressed with how great my lashes looked after just one month, which you can confirm by looking at the pictures.
I finished my Lazru eyelash serum treatment a few months ago and was very happy with the results. The serum was very gentle on my eyes throughout the treatment. My lashes almost completely stopped falling and looked longer and fuller, as you can see above.
But the main question is: does it work? 100%!!! I even started skipping eyelash curlers most days because my lashes were so long that they curled naturally. Love it! Will I buy it now that my sample is gone? I don't think so. Not for the time being, anyway. And not because I don't like it, I really do!!!
If you struggle with short and weak lashes and can afford to GO FOR IT!
---
Questions and answers:
Can I use Lazru only once a week?
You should use Lazru once a day to get meaningful results.
Is the Lazru Eyelash Serum really hormone-free?
Lazru is 100% without hormones. Here we rely on the power of nature.
Use Lazru on tinted eyelashes?
You can also use Lazru on tinted eyelashes without hesitation.
Buy Lazru
Where is Lazru available? We have done some research.
Buy Lazru on Amazon or Pharmacy?
Where can you buy Lazru? Lazru eyelash serum and eyebrow serum is only available online on the homepage and at selected salons. We think it's great that Lazru remains exclusive and is not available on Amazon. This gives you a more personal contact with the manufacturer. Our experience shows that this makes it easier to get in touch with customer service. There is also a question & answer page on the Lazru website where frequently asked questions are answered directly.
---
Lazru Rating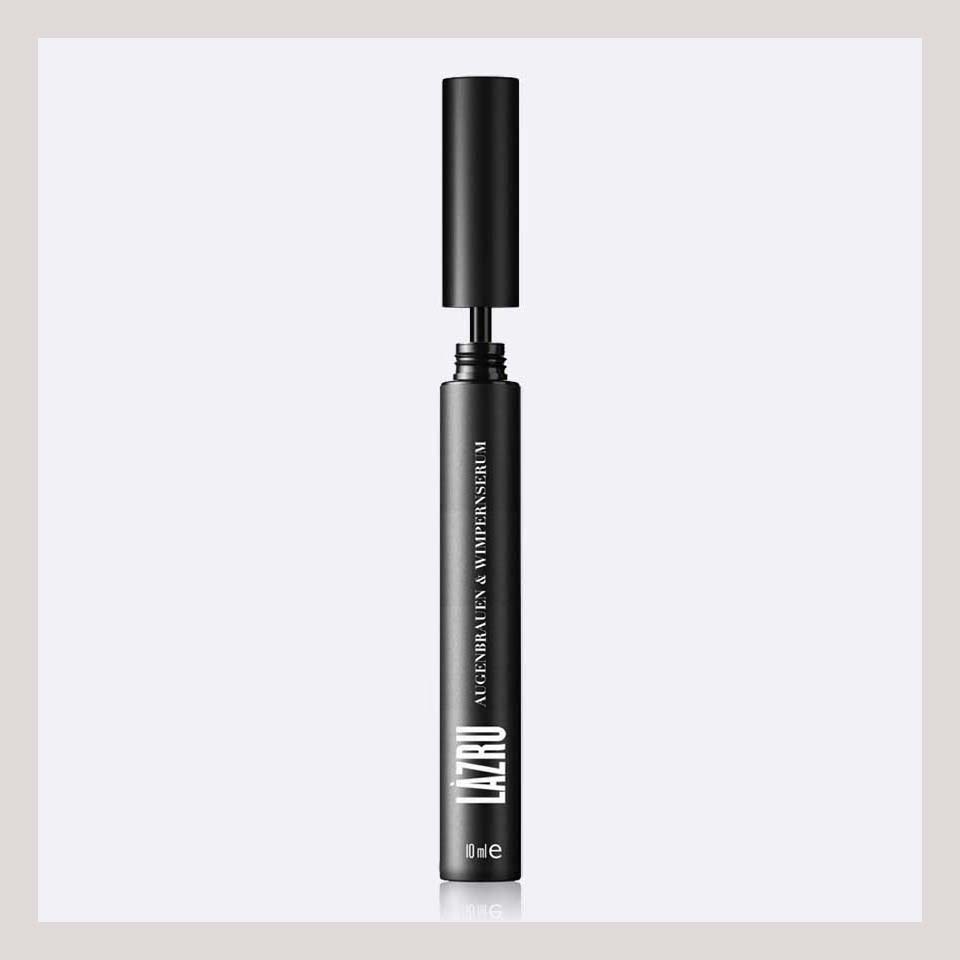 Lazru reviews speak for themselves!
We have online Reviews by customers and have found 90% positive reviews. This is remarkable for an Eyelash Serum.
We are happy that we can finally offer women the Lazru eyelash serum in our salon. The product is hormone-free and also without Minoxidil. Lazru is also already known among well-known celebrities.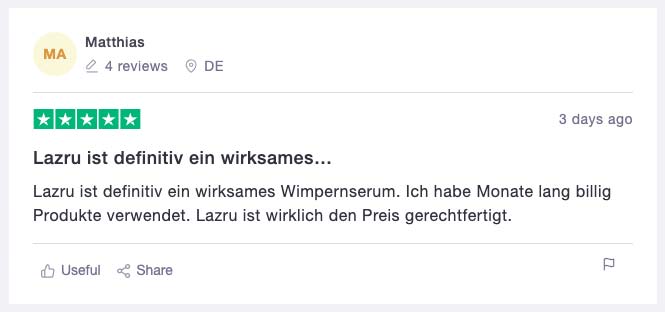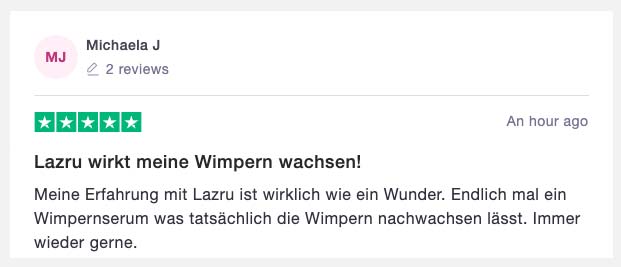 Lazru Ingredients:
Lazru does not simply make a mixture! That would be too simple. The various fermentation processes of the ingredients must be precisely coordinated. And this is precisely the secret.

Lazru
Aloe Vera: One of Lazru's ingredients
Who doesn't want eyes that can really enchant. We all do that right? Aloe Vera helps you with that too.
Sparse eyelashes and brows can be problematic and the aloe vera in Lazru is designed to nourish eyelashes and brows by encouraging their growth.
And another 60 ingredients. Find out more directly at Lazru.de