Greasy hair! What can I do?
We show you the 4 best products for oily and greasy hair!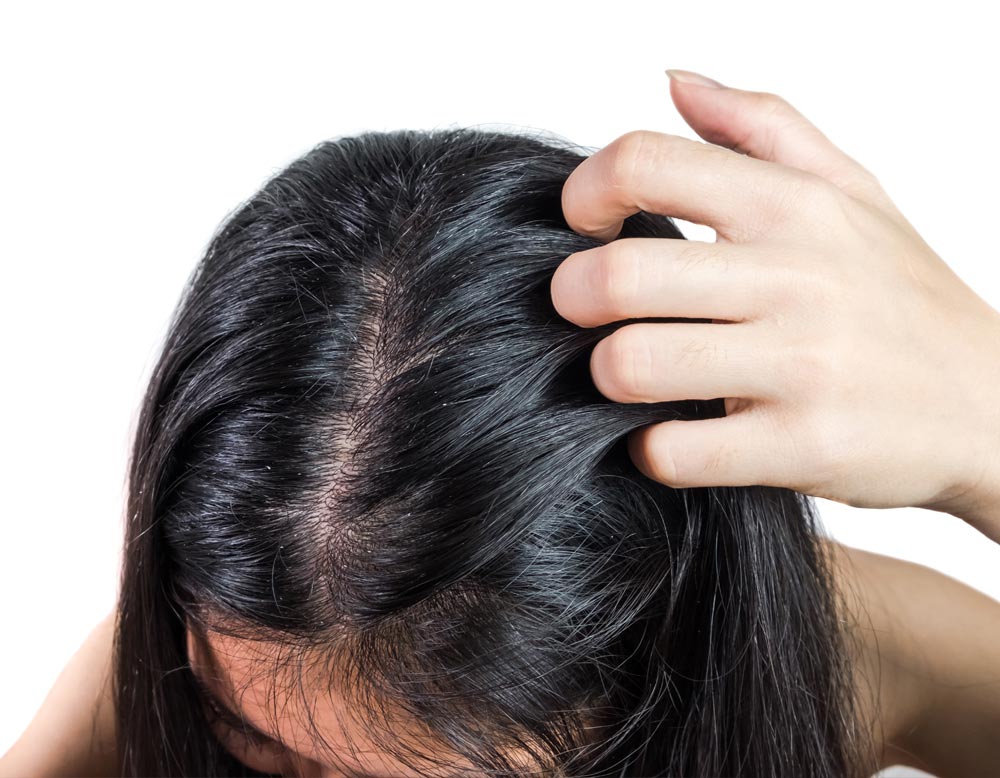 Anyone who tends to have greasy hair can confirm it: not only does it quickly look unkempt, but it's also often downright impossible to style - unless you're into the strictly slicked-back look. But otherwise, the styling process can often be quite frustrating. But what should you do when your hair looks stringy after just one day and your sebaceous glands are simply over-pumping? Simply wash your hair every day - says one faction. The other says: No, absolutely not!
Here we explain why hair gets greasy so quickly, what it can do to your health and which products can help to quickly get the problem under control - with the help of the right shampoos and dry shampoos!
Causes of greasy hair
There are three main factors that promote excessive sebum production on the scalp: One of them is an irregular washing rhythm. The secret to success is: If you normally wash your hair every day or every two days, you should definitely stick to it. If this habitual rhythm is suddenly interrupted, the sebaceous glands react with excessive production. The result: greasy hair. Another important factor is hormones - or rather hormone fluctuations. For example, puberty can be a phase of life in which one has to struggle more with greasy hair. As a fluctuating hormone balance also upsets the work of the sebaceous glands. The third factor is: Stress! In stressful situations, the body releases more adrenaline than usual and this also motivates the sebaceous glands to release more. The result: unsightly, greasy hair.
The 4 best products for oily hair
---
Redken Scalp Relief Oil Detox Shampoo
This shampoo is an incredible relief for oily scalp and quickly greasy hair! It cleanses the scalp and oily hair very gently but effectively and at the same time regulates sebum production, so that the roots will become less oily in the future. The so-called dry/wet formula ensures this: Micro-sponges absorb the excess grease, lipacides have an additional cleansing and clarifying effect. And limonene extract has an astringent and refreshing effect - so the hair remains oil-free even a day after washing.
In addition, this product delivers tremendous moisturisation: the greasy roots are regulated and the dry tips are in turn well moisturised so that they look especially supple. Itchiness and sensitivity of the scalp are also regulated by the cleanser's balancing formula. After shampooing, hair feels extra fresh with this top product! This shampoo was specially developed for hairdressers and is free of alcohol and parabens. Therefore, it is also suitable for particularly sensitive scalps and coloured hair!
---
MeMademoiselle Anti Oil Shampoo: Against Greasy Hair
Another top alternative is this wonderful keratin shampoo without silicone and parabens. With its combination of natural herbs, it effectively fights for scalp regreasing and promotes the build-up of strong, healthy hair. Real chamomile and white berry mistletoe have a skin-soothing and relaxing effect. In addition, it has an antimicrobial and antiviral effect due to the lemon balm it contains.
Zinc sulphates disinfect the scalp and also promote wound healing. This product not only makes your hair less greasy, but also provides it with all the nutrients it needs. This is ensured by the fennel extract contained in the product, which contains many mineral salts, silicic acid, vitamins and essential oils. Even damaged hair is repaired. This product is manufactured in Germany and stands for high quality!
---
Maria Nila Invisidry Shampoo
This unique dry shampoo for dark and light hair is a lightweight powder spray that instantly refreshes and conditions your hair and scalp. Your hair will look freshly washed and shiny without looking oily. Before use, simply shake the product vigorously and then spray directly onto the roots. Then massage gently and brush into the lengths for the perfect result! This way, no unsightly powder haze remains in the hair. The product smells wonderfully fresh, is sulphate and paraben-free, 100% vegan and comes in climate-neutral packaging. Highly recommended!
---
AVEDA: Shampoo for oily hair
AVEDA stands for natural ingredients and high quality - and this wonderful, aerosol-free dry shampoo is no exception! It refreshes greasy hair in just a few seconds, gives breathtaking volume at the same time and smells like a wellness holiday! A refreshing dry shampoo that cleanses the hair intensively and provides an invigorating feeling.... Simply top!
---
Shampoo vs. dry shampoo! What helps with greasy hair?
If you suffer from greasy hair, there are two main effective problem solvers! Dry shampoos are, of course, an immediate remedy. They absorb excess sebum from the scalp and quickly conceal it: oily hair looks fresh again immediately after application! Another advantage is that they also provide great volume and the dry shampoo gives the hair more grip, which makes it easier to style. That's why many top stylists use dry shampoos even on freshly washed hair. To get the problem of oily hair under control in the long term, it is of course also advisable to tackle the problem at the root, so to speak, and actively fight excess sebum production with shampoos. Such special products for oily hair regulate sebum production and give your scalp and hair the care they urgently need. But which is more effective: using dry shampoo or shampoo for oily hair? The answer is: both! The dry shampoo helps for the moment and the shampoo works in the long run! So why not use both regularly?
Questions and answers
Can I counteract greasy hair with the right diet?
Absolutely. Especially fatty and fried foods, industrial sugar and white flour products stimulate sebum production enormously. That's why it's best to stay away from them. True miracle foods for oily hair, on the other hand, are fresh fruit, vegetables, wholemeal products, oatmeal, fish and nuts.
Is it true that heat is poison for oily hair?
Yes, because too high temperatures stimulate the production of the sebaceous glands. That's why you should only wash your hair with lukewarm water. Heat styling is also not necessarily recommended for oily hair. Best on a low setting blow-dry.
Is it recommended to apply dry shampoo before going to bed?
Absolutely! This gives the powder several hours to absorb the grease. And you wake up in the morning with super fresh hair!
Can I use baby powder instead of dry shampoo?
Of course, this is also possible: apply the powder with a few dusting clouds at the hairline, gently massage in, brush out and you're done! However, you should be aware that dry shampoos naturally have an extra care effect and are precisely tailored to the needs of your hair.