5 products for curly hair that your curly hair will love!
Wearing your hair au naturel has never been so cool, but those of us with curly or wavy tresses know that letting go of our kinks with abandon is easier said than done. Our curls can only be as good as the products we use - defined, beautiful curls and healthy, hydrated strands go hand in hand, after all.
For starters, when choosing the right product for your strands, it is important to note that curly hair is fundamentally different from straight hair. "The follicles on the scalp where the strand is located during hair growth are flat and elliptical, which causes the strand to curl as it grows," explains Ebru , stylist and owner of ARBUTI Hair Salon, Hairdresser Munich . Furthermore, this difference in shape is mainly why curly hair needs more moisture. This makes it more difficult for the scalp's naturally moisturising oils to travel down the entire hair shaft.
Bottom line: look for products that help you maintain your natural texture and are specifically designed to give your curls what they need. From Styling creams to smoothing oils and leave-in conditioners, we have you - and your curls - covered.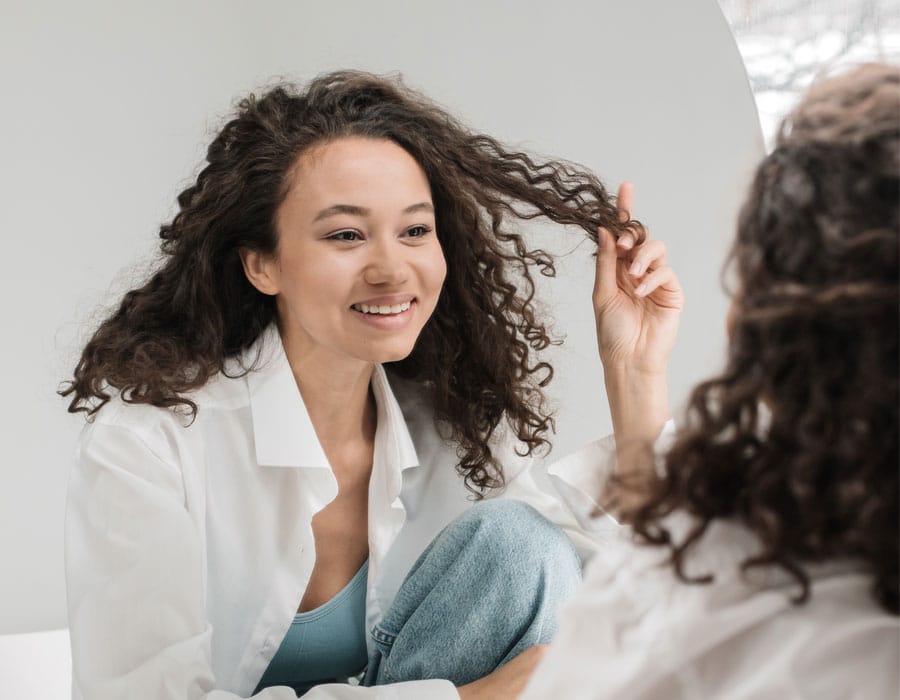 Here are the best hair products for curly hair
---
Overall best: Cantu Shea butter
Define and moisturise your locks with this hair cream. Rice amino acids and avocado oil helps your hair retain moisture, which prevents and damage frizz. This cream is made from 96% natural ingredients and contains no dyes or silicones. It is therefore safe to use on all hair types.
---
Best budget: REVLON Orbital Curl Activator
As the name suggests, this curl-friendly formula helps define, strengthen and moisturise coils so they look and feel great. To use, apply a small amount to damp hair and dry as usual.
Your advantages:
Flexible hold and optimal formability
Creative curl stylings for every taste
Helps to preserve the colour
---
Best cream for curls: Moroccanoil Curl Defining Cream
Think of this curl cream as a nourishing food for your curly hair. It coats every last coil with intense moisture to instantly eliminate frizz and dryness . Instead, your curls will look instantly defined and feel insanely soft.
---
Best curl refresher with this spray for curls
A curl freshening spray with Argan oil, green tea and aloe vera extract. Curls on the second or third day can look a little flat and tired. Reach for this spray instead of keeping them locked in a boring top knot. This curl spray brings curls back to life, reshaping and rehydrating them as soon as you spray it on. It also provides excellent control over shine and frizz. In other words, it brings your curls back into formation.
---
Coconut oil for curls
If you're struggling to find a solution for dry, brittle curls, the right common wash may be just what your routine is missing. Instead of using shampoo for every wash, try this moisturising formula to remove product residue and impurities without compromising moisture. While some shampoos weigh your hair down and strip it, this formula uses yummy ingredients like coconut oil, aloe vera and shea butter to revive your locks for more manageable hair. We also love that it has plenty of slip, making it ideal for detangling.
---
ARBUTI Hair Salon Tip:
To avoid breakage in curly hair, always detangle the hair when it is wet and saturated with product.
Final judgement
Curly girls and men have no shortage of products to choose from, but we think the best product for curly hair is Cantu Shea butter . The rice amino acids and avocado oil help your hair retain moisture, reducing the risk of frizz and damage. Try Miss Jessie's Curls So Fresh to freshen up your curls on the second or third day. The combination of water and glycerin rehydrates your hair and brings your curls back to life.
What to look for in a product for curly hair
Make sure it is specific for curly hair
First and foremost, make sure you choose a product that is specifically designed for curly hair. It sounds obvious, but because curly hair so is different, the use of curl-specific products is of utmost importance.
Moisturising ingredients
Moisturising ingredients are your curls' best friend (think glycerin, shea butter and natural oils). Since curly hair is naturally more prone to dryness than straight hair, the more moisture you can pack into your hair, the better. That being said, curly hair does need a little more TLC, but it also needs some downtime. "Curly hair needs a lot of attention, but it also just needs to be left alone. It thrives with the least amount of styling and manipulation, " Hardges notes. In other words, style it and then leave it alone - the less you touch it and mess with it, the better.
No drying ingredients
Similarly, you should also make sure that any products you use are free from ingredients that can dry out your strands. This means things like alcohol and sulphates are a no-go as the last thing you want to do is strip your tresses of moisture. do have.
How can I make my curls more defined?
There are a few things you can do to get rid of frizz and get well-defined curls.
First, make sure your hair is well moisturised.
Curls that are too dry will never achieve the same definition as those that are well moisturised.
Try to set aside some time each week. Do a regular moisturising treatment or mask once or twice a week.
Another tip is to style your curls immediately after showering, while they are still damp. Start with a leave-in conditioner to control your hair and lock in moisture before you start the rest of your styling.
Finally, make sure you use a diffuser when drying your hair. It can help even out your curl pattern and increase the volume of heavy curls, giving your hair more body.